There have been several health and wellness trends that have lured health enthusiasts' time and gain. However, one thing that has remained constant is Yoga.
From being therapeutic to aiding weight loss to even helping athletes to find a better mind-body equilibrium, yoga has achieved a universal appeal. What is more interesting is that several contemporary fitness trends are merging with Yoga to make it more fun, inclusive, and universal in its appeal.
In 2022, new yoga trends that are worth your attention are:
Aerial Yoga
Virtual Yoga
Capsule Yoga
Chroma Yoga
Today we'll discover some peculiarities of each yoga trend.
Is Yoga Popular Right Now?
Yoga has been around for thousands of years now. It has been an eternal path definer for health, wellbeing, and self-realization. Health and fitness enthusiasts from all over the world have realized and acknowledged the power of Yoga. It even finds mention as one of the habits of highly successful people in the world.
But fast-developing society calls for more. Today's yogis are not like those who practiced yoga 5000 years ago. They are busy, active, and ambitious ( no matter how it may sound in terms of yoga philosophy). So, yoga started to change with time.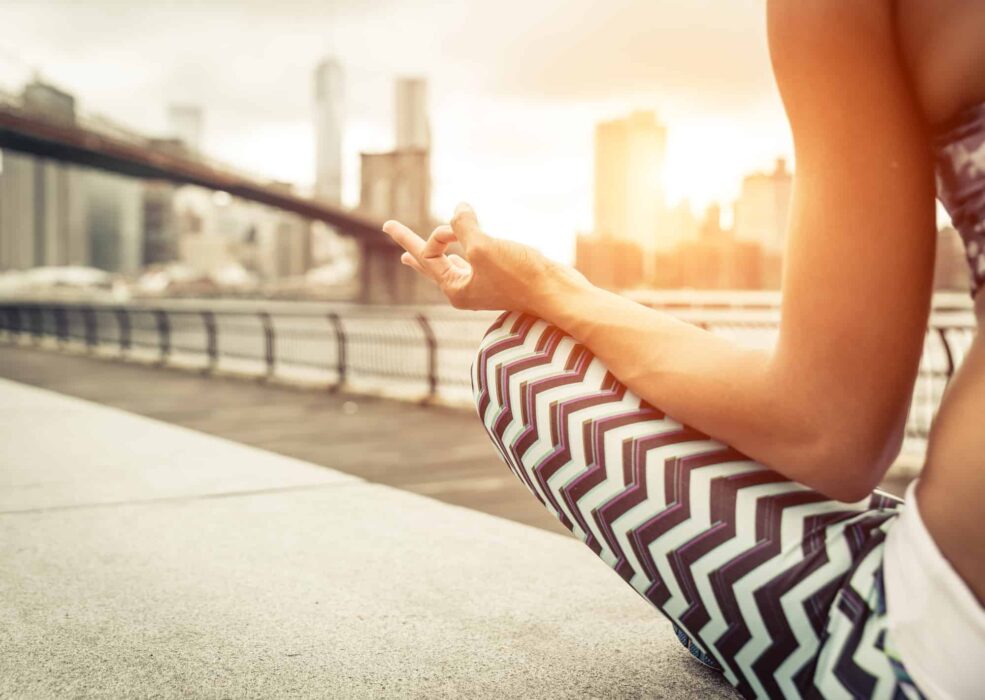 The discovery of 2022 is that slow-paced, low-intensity yoga exercises mix well with other fitness activities. So now we have some latest yoga trends that may be exciting to try. Let's see what are they!
HIIT Yoga
HIIT Yoga combines the best of two disciplines; it gives the benefits of a cardio workout and an excellent full-body stretch. It saves a lot of time that you would have spent otherwise by doing HIIT and Yoga separately.
This unique trend is for fitness enthusiasts who love to challenge their bodies. The training includes elements of pilates, kickboxing, fitness, power workout, and, of course, yoga poses. The pace is quite fast, so during the HIIT yoga session, you won't have time to be bored.
Broga
When two or more men meet, they usually go out for a drink or to some social or family gathering. But how about getting men to meet over Yoga?
Yes, that is precisely the objective of Broga.
Aimed at the all-men segment, Broga allows fitness junkies to connect with like-minded people over an invigorating yoga session. Just like women, men have a lot to share with their male buddies. Their health concerns and goals are also different from women.
Yoga for Two (People Really Do Such Things Together)
Broga is in fact a healthier way for men to interact combined with clubs and pubs. This is a great way to wean them off the indiscipline lifestyle they might otherwise indulge in.
Aerial Yoga
One of the most viral images on the internet that has not evaded the eyes of any internet gazer is a girl flying in the air in a yoga hammock. That's how aerial yoga is practiced.
Aerial yoga has emerged to be a go-to for strength building for the arms and core. It is favored by men and women alike. 
Normal aerial yoga session lasts 50-90 minutes. But even if you subscribe to a short 50-minutes aerial yoga class, you still get the whole pack of its benefits.
According to the latest research done by the American Council of Exercise, women who practiced aerial yoga for 6 weeks lost nearly 2-2.5 pounds and 2 inches in the waist.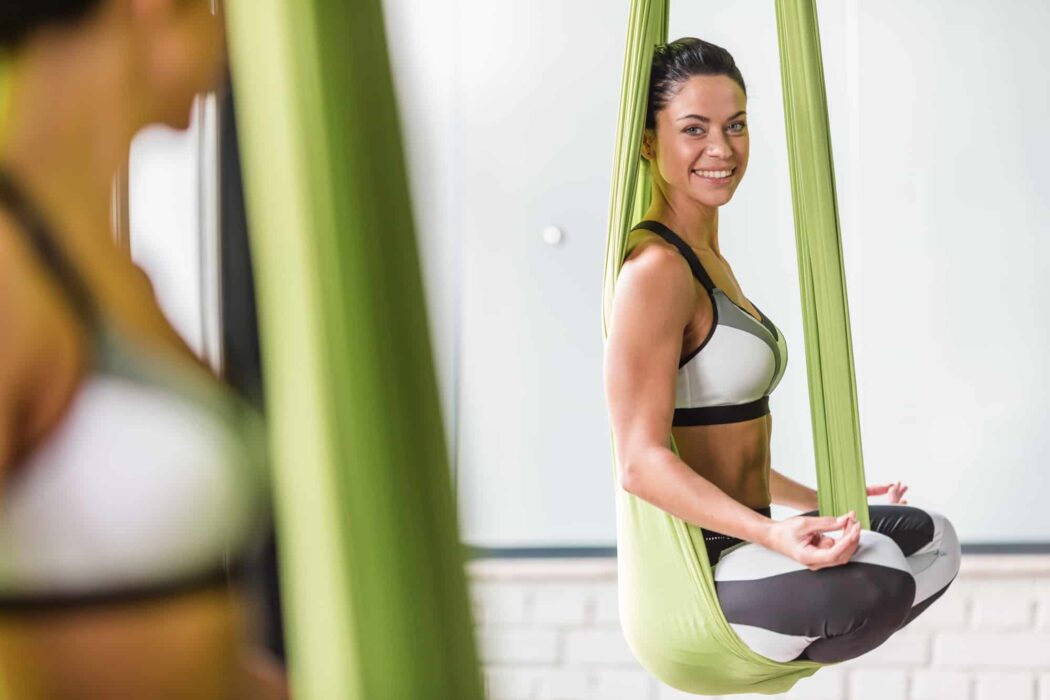 All yoga poses are performed in a special hammock above the floor. But even so, you don't need to be an acrobat to do aerial yoga. No specific skill is needed to start doing tricks in a yoga hammock. Moreover, yoga studios offer a wide range of classes for newbies and experienced yogis.
Having said the above, we believe this yoga trend is expected to stay and rule the roost for quite some time now. 
Virtual Yoga Class
Virtual Yoga classes have perhaps been one of the best outcomes of the pandemic. It has resulted from an inclusive format that has opened up the world for yoga teachers and students. With upgraded meeting applications, several academies and individual instructors are conducting Yoga sessions for students from every part of the world.
While several pre-recorded yoga classes are available on YouTube, other virtual Yoga classes thrive on live online platforms. These classes are conducted in an individual or group format. Students can avail them at a various price point that makes them open to one and all.
Below are some examples of yoga resources available online:
| | | |
| --- | --- | --- |
| YouTube Yoga Channels | Websites with Yoga Classes | Yoga Applications |
| | | |
So, practicing yoga from the comfort of your home makes Virtual yoga more attractive to yogis worldwide.
Yoga Capsule
There were several factors that push most fitness enthusiasts away from yoga. The prime includes the long duration of yoga sessions. As you know, a traditional yoga class lasts for at least an hour. However, now, it is believed that something is better than nothing.
5 Ways Baptiste Power Yoga Will Change Your Life
Thus, in yoga capsule training the time duration is minimized to suit the different schedules of the practitioners. The regular duration of a yoga capsule is 5-10 minutes, sometimes 20 minutes. So, if you pick this activity, you can easily fit it into your overloaded schedule to have time to unwind and breathe out the tension of the day.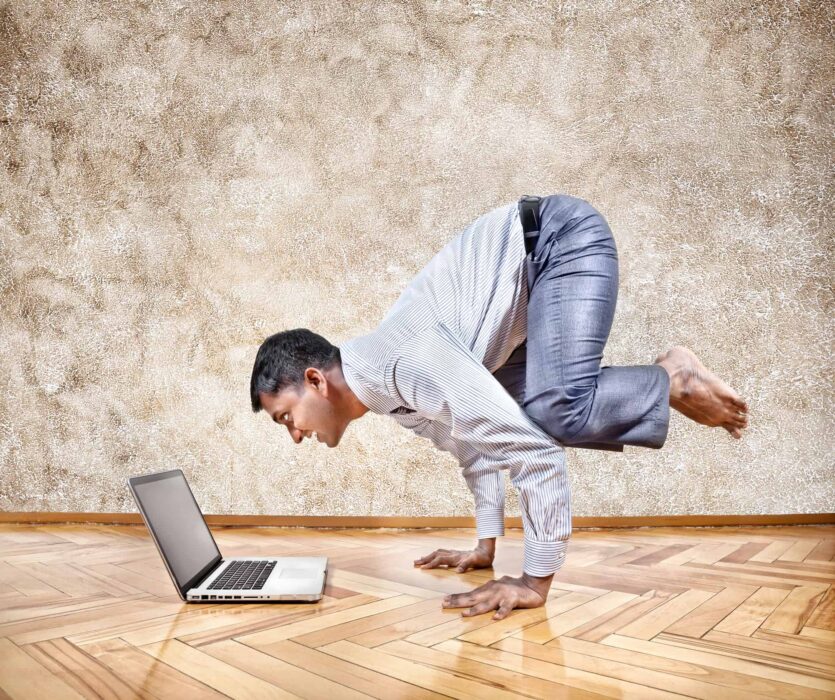 The conception of short yoga sessions is introduced by Swami Niranjanananda in 2020. There are 5 sets of exercises called capsules. You can practice them separately, or build up a whole 90-minutes practice when you find time for it. The yoga capsules adjust to the time of the day when it's better to use them:
Upon awakening capsule #1 (includes mantras and breathing techniques to get in tune with your body)
The morning before breakfast capsule # 2 (contains warm-up sequences like Sun Salutation or Tibetan rites)
Day capsule #3 ( offers meditation technique with bee breathing to calm down during the day)
Day capsule #4 ( includes short Yoga Nidra relaxation)
Bedtime capsule #5 (deep meditation in Savasana pose that helps let go and destress at the end of your day)
Paddleboard Yoga
Paddleboard Yoga is undoubtedly a go-to for people looking for good fun and some adrenaline rush as they pursue their fitness regime. Catering to advanced Yoga practitioners, Paddleboard Yoga helps develop core strength, better balance, and ability to concentrate.
This hybrid Yoga regime is practiced in water on a paddleboard. It requires the practitioners to have reasonable control over the posture. All you need is calm lake water or a swimming pool to provide you with a refreshing ambiance to practice this yoga regime.
The yoga poses will not differ much from a normal class on the ground. But SUP yoga requires more balancing skills. So, we'd suggest before you try it on water, do a little of this on the shore. Unless you're want to combine yoga with some diving!
Roga
Yoga for runners is termed Roga.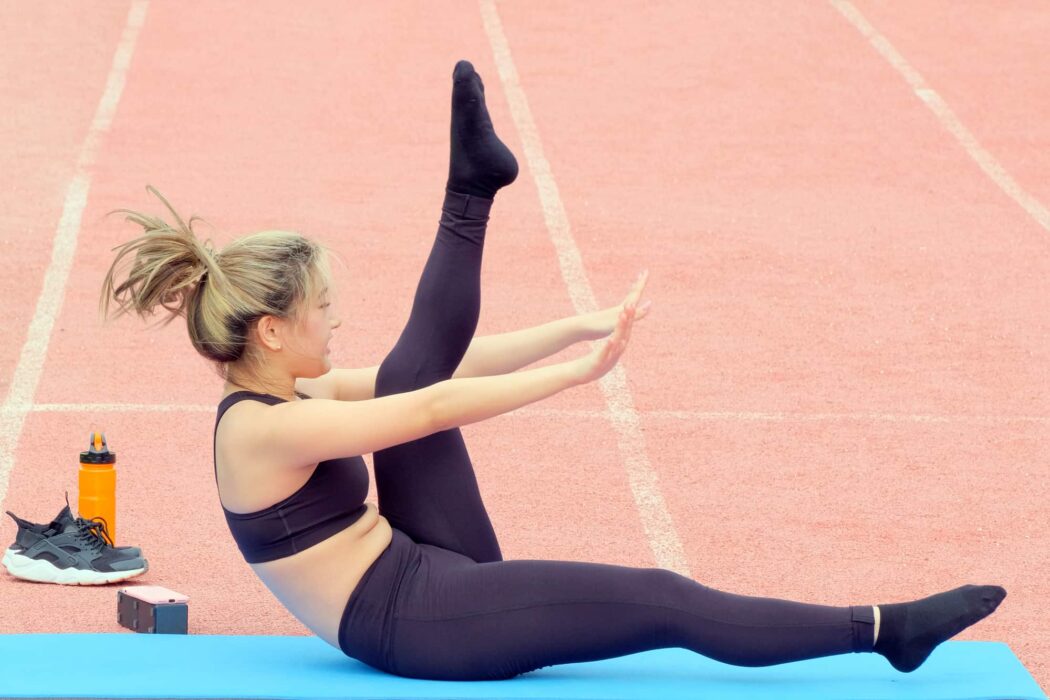 Off late, athletes and runners have started practicing Yoga to recover sore muscles, build strength and find a better mental equilibrium.
They have realized that the entire gamut of protein diets and high-intensity exercise regimes put together can't provide the kind of benefit that even 30-40 minutes of Yoga practice can bring to the table.
Hence even high-performance sports professionals are also turning to Yoga for a more holistic approach towards their fitness.
Chroma Yoga
Combine the endless benefits of Yoga with technologically upgraded light therapy. This is what Chroma yoga has in store.
Chroma yoga practice takes place in rooms that are lit with a specific color of light. Neurologically proven that each color has a distinguished impact on the mind of the human. For instance, red or orange is for energy and vitality, blue is soothing the nerves and promoting productivity, and yellow is for good sleep. So stimulating several sensory systems of the body is the goal of Chroma yoga. It uses color, sound, and, in some studios, smell during the yoga session.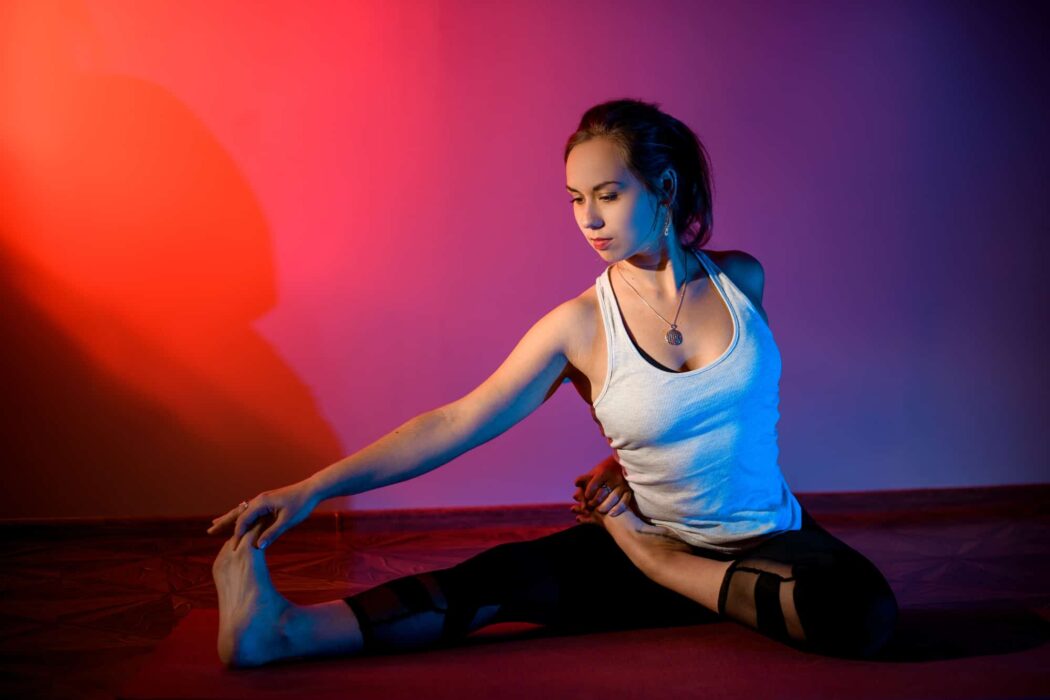 This hybrid Yoga was introduced for the first time in 2017 and still commands much traction in 2022. Despite the pandemic and social distancing protocols, Chroma Yoga has kept its earlier patron intact while also luring news practitioners.
Yoga sessions are conducted at the backdrop of a very peaceful and calm atmosphere with very relaxing music to go with the flow. In the fast-paced lifestyle of the millennials, Yoga allows calming down. It helps to energize our breath and strengthen our bodies to take on the challenges that life throws at us.
What Are Mudras in Yoga: Ultimate Guide
To sum up, the segment of yoga has lots of new things to offer in 2022. If you're craving for a new or want to add physical activity to your life, new yoga types are there to try. Just pick what tastes you the best and hop on your mat!

Have an enjoyable and safe yoga experience!