If you've been on a ketogenic diet for a long time, you may get bored with the monotony of your nutrition. Sometimes you can get tired of even the tastiest meat or bacon if you don't add variety to your meal plan. In such cases, I prepare different keto sauces.
Tomatoes are questionable for keto lovers. Since they contain some carbs, they need to be balanced with healthy fats in order for the sauce to remain high in fat and low in carbs. You can safely eat tomatoes if you have already adapted and your ketosis is stable. But if you are just at the beginning of your keto journey, you should limit the amount of sauce to two tablespoons per meal.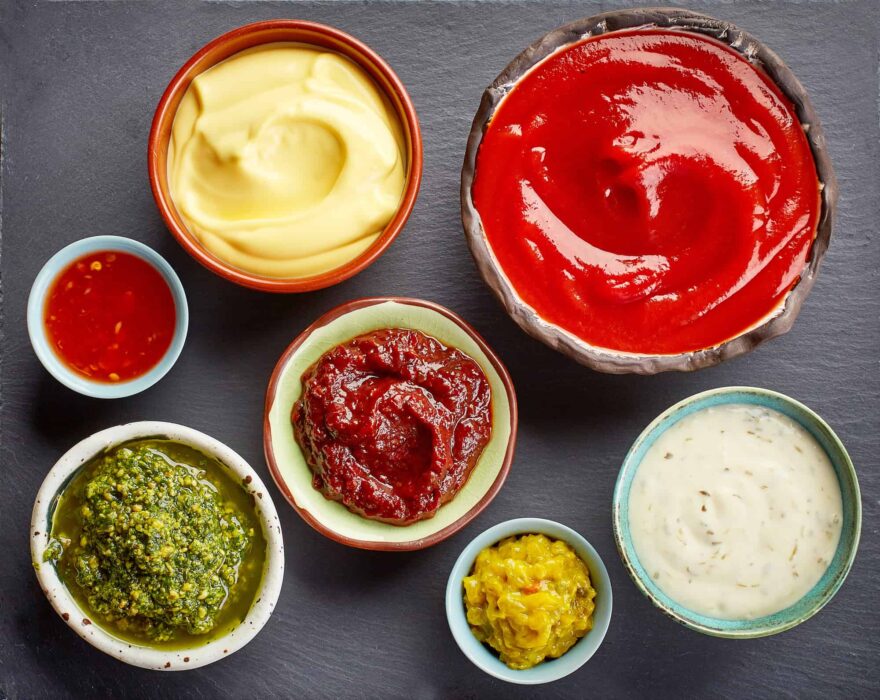 Let's take a look at 10 of my favorite keto tomato sauce recipes that will perfectly complement any dish.
Spicy Tomato Salsa
Fresh homemade salsa can be your favorite keto sauce. It's so easy to make and can save any keto food, be it fish, chicken, beef, or salad.
The combination of fresh garlic, red tomatoes, onions, jalapenos, and cilantro is the perfect flavor enhancer and is 100% keto-friendly. Try it yourself!
Is Garlic Keto? Carbs, Calories and Tips
Oregano, shallots, cumin, red onion, lime juice, and chili are some of the great keto-friendly salsa ingredients you can use to get a fresh taste.
Ingredients
400 g canned tomatoes
300 g fresh tomatoes
100 g butter
2 cloves of garlic
5 g thyme (fresh or dried)
20 g basil
сhili pepper to taste
50 ml olive oil
salt pepper
stevia
Preparation
Peel the tomatoes – cut slightly, dip in boiling water, and then ice water.
Pour half of the olive oil into the pan, and add peeled garlic cloves, a sprig of thyme, and a little basil to flavor the oil. Place a pan over medium heat and saute until strong garlic and thyme aroma appears.
Remove the garlic, add the tomatoes and chili, and simmer for a couple of minutes. Next, add canned tomatoes and taste them. Everything depends on the tomatoes – add a little keto sweetener to balance the taste, or perhaps a little balsamic vinegar if you need to emphasize the sourness.
Add butter, and the remaining basil to the tomatoes, turn off the heat, and let it brew for an hour. Remove the thyme and basil from the mix. Whisk the sauce in a blender until it turns red. Add the remaining olive oil, and the color should turn orange. Salt to taste. Enjoy!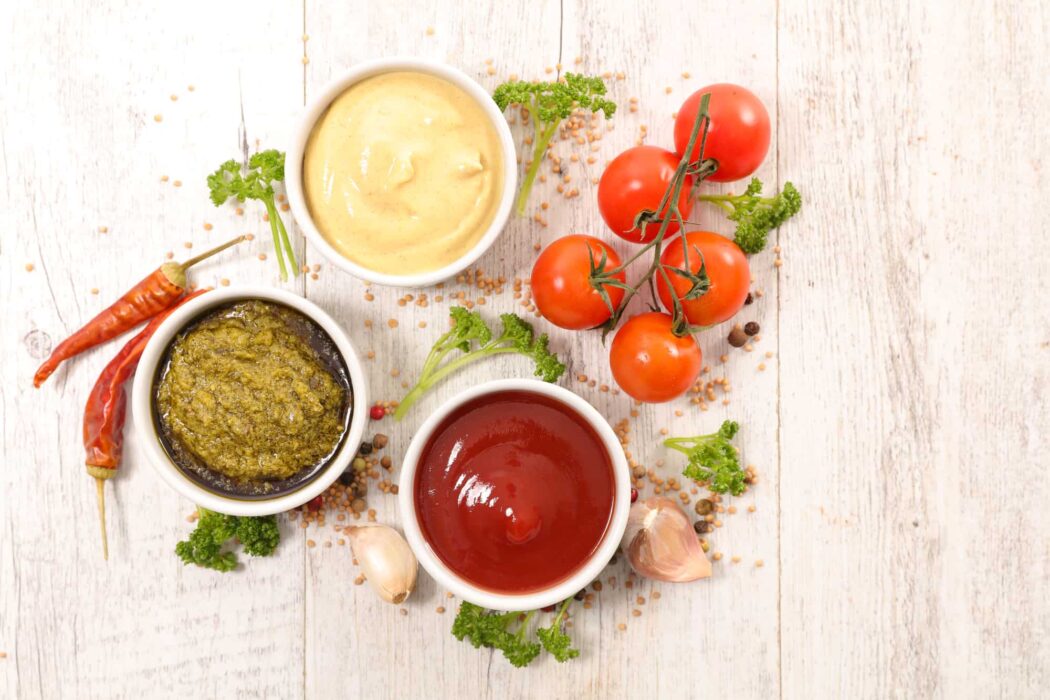 Delicate Tomato Salsa
Ingredients
350 g tomatoes
40 g red onion
3 cloves of garlic
10 g parsley
20 g cilantro
10 g mint optional
30 g lime (squeeze juice)
60 ml olive oil
1/2 tsp salt
1/2 tsp black pepper
Preparation
Wash the tomatoes and cut them into small cubes. Try to chop the onion and garlic just as finely and evenly, and mix everything.
You can only use parsley if you don't like cilantro. Chop the leaves finely and add to the tomatoes.
Keto Honey Mustard Dipping Sauce: 3 Delicious Recipes
Squeeze lime juice into the mix, add olive oil, salt, and pepper, and mix thoroughly.
Simple Salsa without Cooking
Ingredients
4 pcs tomatoes, cut in half
1 pc onion, chopped
1 cup fresh cilantro
2 pc jalapeno pepper
3 tsp chopped garlic
1 tablespoon lime juice
salt and pepper to taste
Preparation
Chop all ingredients. Add them to a blender. Grind to the desired consistency. Serve with your favorite appetizers or as a seasoning for the main dish, and enjoy.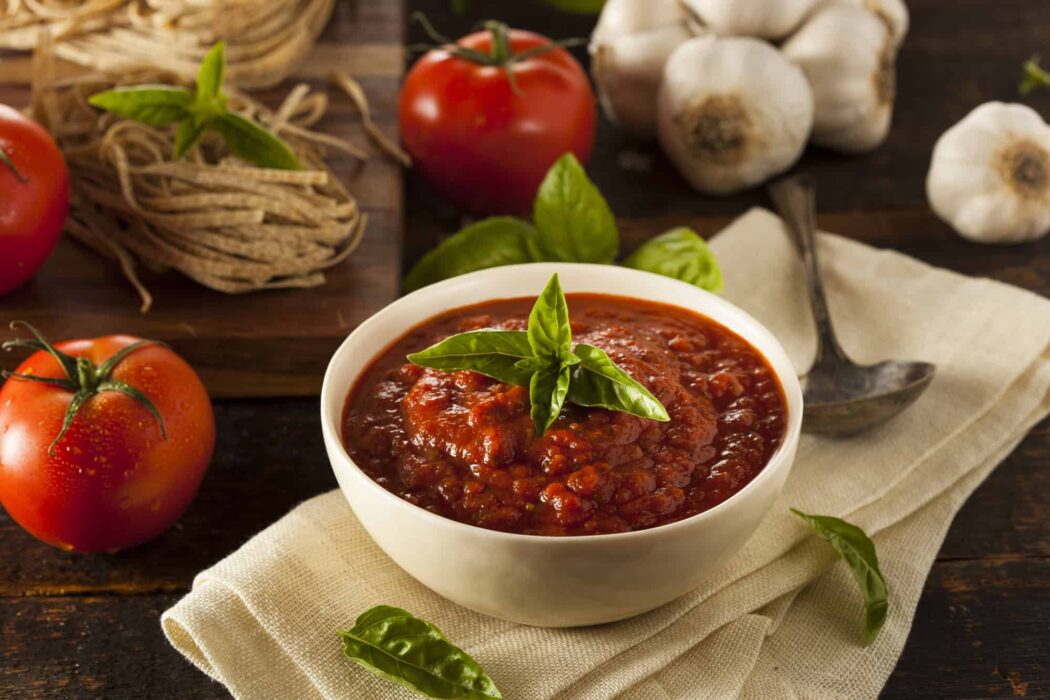 Keto BBQ Sauce
It is the perfect addition to summer BBQ or keto pizza. When you don't know which sauce to choose in the store, you need to make your own. The keto sauce in this recipe is suitable for grilled and smoked meats, especially ribs, pork, and fried chicken.
Ingredients
1 tsp mustard
1 tsp cumin
2 tbsp olive oil
3/4 cup water
Sweetener to taste
1/2 cup apple cider vinegar
1/4 tsp BBQ flavor
Smoked black pepper to taste
1 tsp ground red pepper
170 g canned tomatoes
2 cloves garlic (diced)
1 tsp dried red paprika
pinch of salt
1 pc Shallot (diced)
Preparation
Add olive oil to a small saucepan and heat over medium heat. Add shallots and salt and sauté until soft and clear, about 4 minutes. Then add the minced garlic and fry for another 1 minute.
Add tomatoes, vinegar, sweetener, barbecue flavor, spices, and water. Stir and heat until the ingredients come together, more or less evenly. Then reduce heat to low and simmer for 20 minutes, frequently stirring, until the sauce thickens and darkens.
Let the sauce cool slightly, then place in a blender and beat until smooth. Add salt if necessary.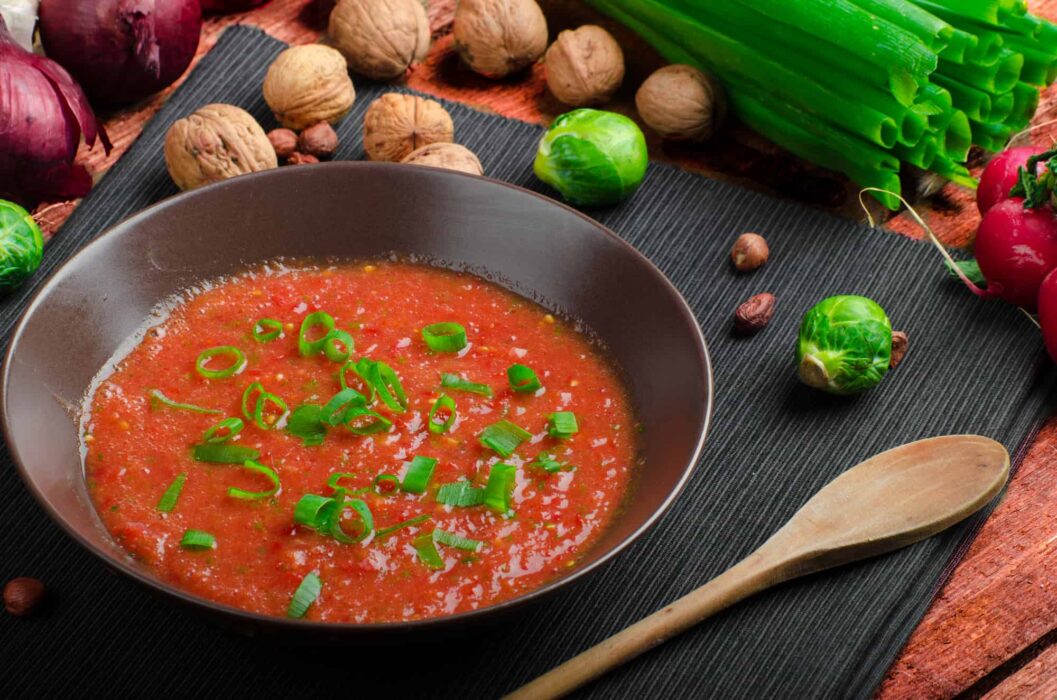 Keto Chili Sauce
This sauce contains a sweetener, which to some extent removes the spiciness. As an alternative to raw peppers, use a tablespoon of chili flakes. For a softer sauce, you can remove all the seeds and skin.
Is Chili Keto? The Best Low-Carb Recipe
This keto sauce can be stored in the fridge for up to 1 month. It can be used to make marinades, as an additive to meat and vegetable dishes, and for dipping keto tortillas or chips.
Ingredients
10 g of fresh ginger
1 tomato
10 grams of red chili (or 1 tablespoon of chili flakes)
A pinch of salt
1 tbsp erythritol
1 tbsp apple cider vinegar
Preparation
In a blender bowl, combine all the sauce ingredients.
Transfer the mixture to a saucepan, heat to a simmer, cover, and simmer for 15-20 minutes until the sauce thickens. Stir the sauce occasionally with a wooden spoon.
Put it into a jar, close the lid and cool at room temperature.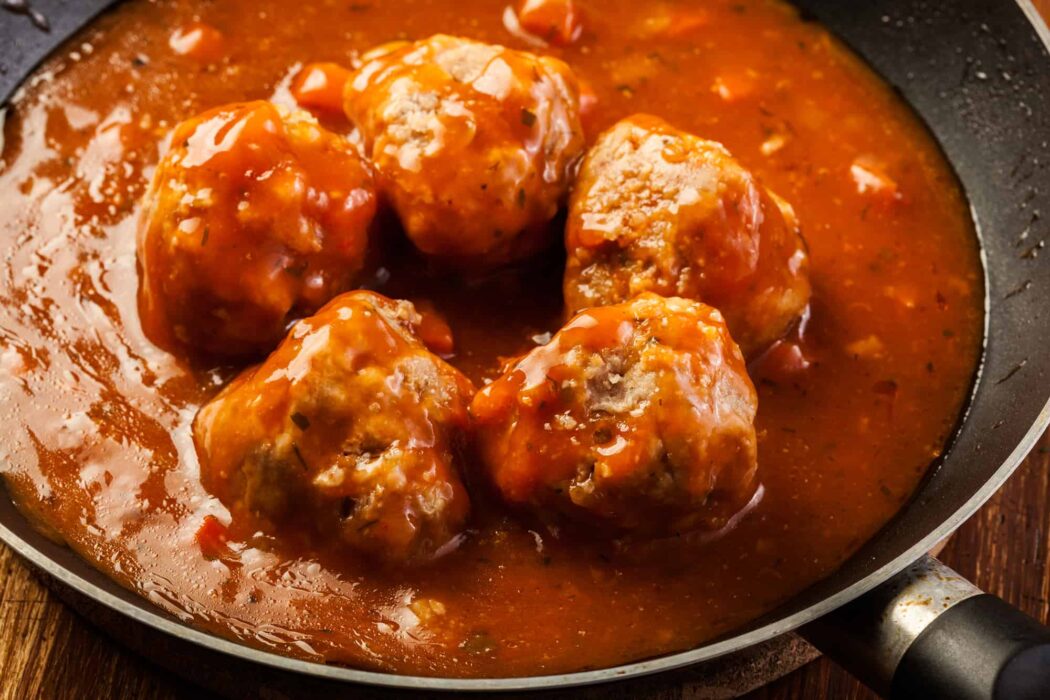 Classic Keto Ketchup
Ingredients
150 g canned tomatoes
100 ml of water
1 tsp sweetener
2 tsp salt
1 tablespoon apple cider vinegar
Seasonings to taste.
Preparation
Place the canned tomatoes in a small saucepan. Add water. Stir and put on low heat. Then add one teaspoon of sweetener. Continue stirring while boiling. Add one tablespoon of apple cider vinegar and salt.
In a separate bowl, combine the seasonings. I like 1/4 teaspoon of paprika, oregano, and dry garlic. Add seasoning to ketchup, cover, and simmer for another 20 minutes. Cool it, and enjoy!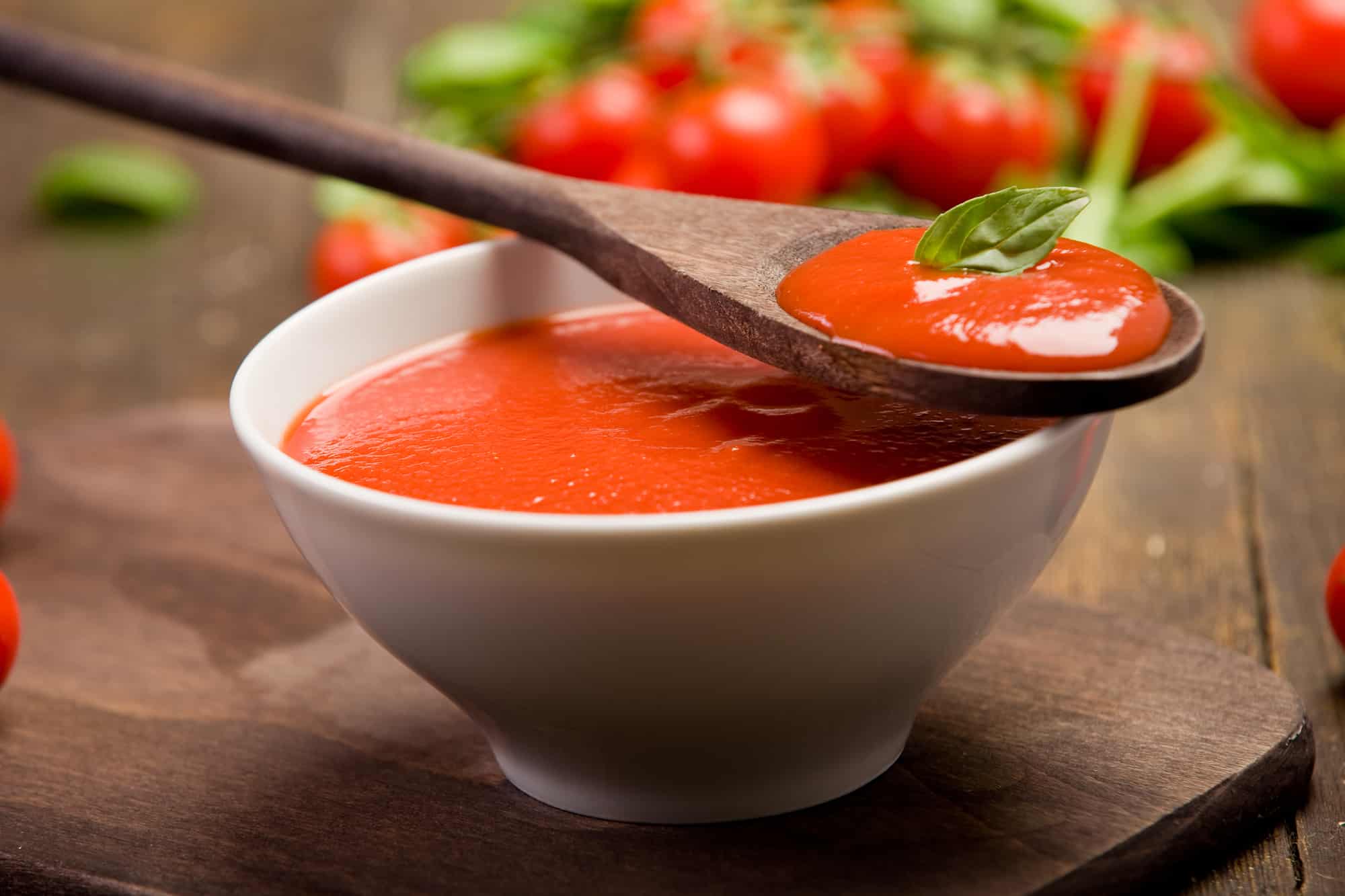 Keto Marinara
This sauce can be used for keto pizza, mozzarella sticks, meat dishes, and baked vegetables.
Ingredients
2 tsp olive oil
3 minced garlic cloves
2 tsp onion flakes
600 gr canned tomatoes
2 tsp chopped thyme
2 tsp chopped oregano
1 tsp red wine vinegar
2 tbsp sweetener
pinch of salt
1 tsp ground black pepper
2 tsp finely chopped parsley
Preparation
Place the oil, thyme, garlic, onion flakes, and oregano in a saucepan or deep skillet. Fry over medium heat for 3 minutes until a strong spice aroma appears.
Add the canned tomatoes and stir well. Add sweetener, pepper, salt, and red wine vinegar and bring to a boil.
Turn off heat and add finely chopped parsley. Cool the sauce and transfer to the jar.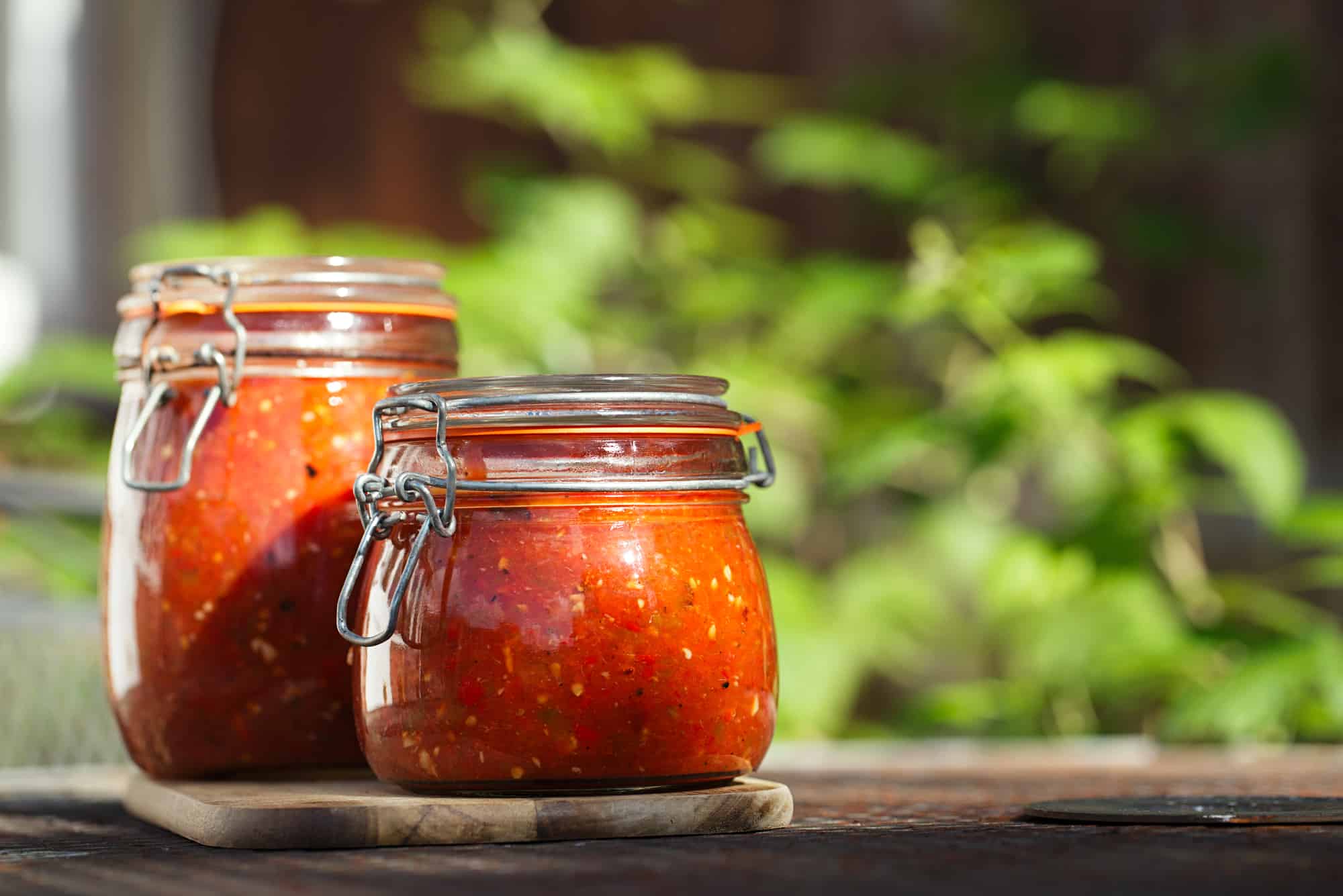 Keto Bolognese Sauce
Although the traditional Bolognese recipe contains ground beef, a mixture of pork and ground beef can be used for the keto diet. The extra fat makes the sauce juicier and increases the fat percentage of the finished meal, which is good for the keto diet.
This sauce can also be made from a mixture of other types of minced meat: pork, veal, and beef.
Besides veggie pasta, the sauce can be served with cauliflower rice or baked vegetables.
The sauce can be stored in the refrigerator for up to 5 days and in the freezer for up to 1 month.
Ingredients
2 tbsp olive oil
450 g minced beef
800 g chopped peeled tomatoes
2 tbsp canned tomatoes
½ cup chopped onions
2 tsp garlic powder
1 tsp oregano
2 tsp basil
2 tsp sweetener
12 tsp salt
90 g dry red wine (optional)
¼ tsp red pepper flakes (optional)
Preparation
Heat the olive oil in a skillet or saucepan. Add minced meat and heat for 5 minutes, stirring with a wooden spoon to avoid pieces in the finished sauce. Add onion, salt, garlic, oregano, basil, red pepper, sweetener, and canned and fresh tomatoes to the minced meat, and stir. Cover and simmer for 10 minutes. Then use a wooden spoon to mash the large pieces of the tomato until they release the juice and break into smaller pieces.
Simmer for another 20-25 minutes without a lid over medium heat until the sauce thickens and the tomatoes are cooked and tender, stirring occasionally. The longer meat and tomatoes are cooked together, the richer and tastier the sauce will be.
The sauce is served hot with grated cheese and vegetable pasta.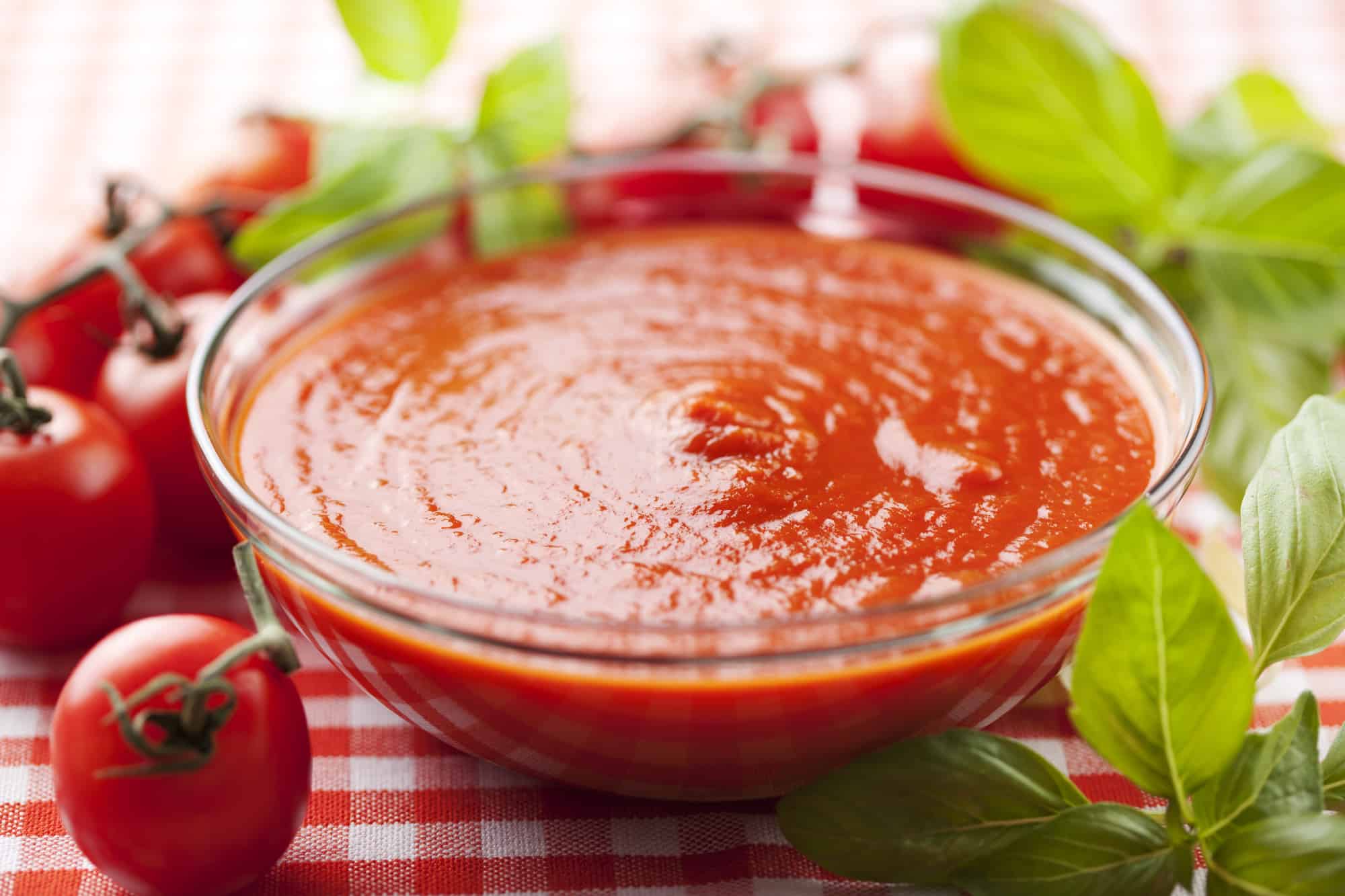 Spicy Tomato Sauce with Herbs
I love this sauce for its quick preparation and versatility. Most often, I add it to my morning scrambled eggs. It makes them magical.
Ingredients
100 g of canned tomatoes
2 tbs Italian seasoning
pinch of salt
sweetener to taste
50 ml of water
1 tsp of apple cider vinegar
Preparation
Mix all ingredients and beat in a blender. Pour water in a little bit and adjust the density of the sauce to taste. You can add cilantro, basil, fried mushrooms, and garlic, and you get a completely different taste.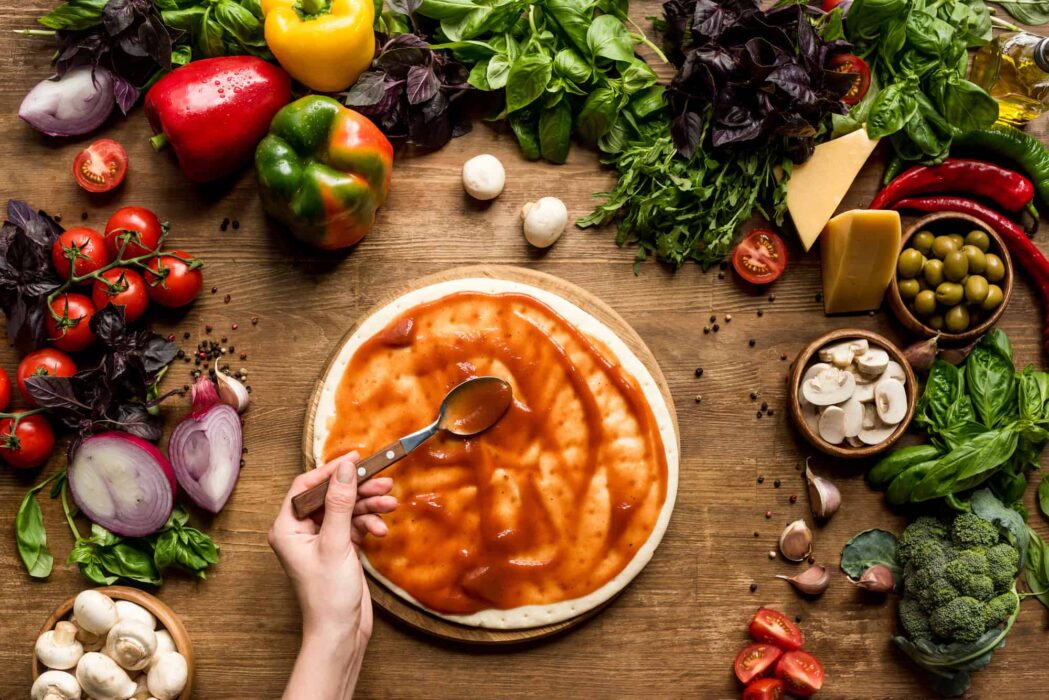 Tomato Sauce for Pizza with Basil and Oregano
Ingredients
1 onion
3 garlic cloves
2 tbsp olive oil
150 g canned tomatoes
1 tablespoon of sweetener
Salt to taste
1 tsp dried basil
½ tsp dried oregano
Preparation
Finely chop a large onion, mince the garlic, and fry in olive oil until the onion is golden.
Add canned tomatoes and dilute with water to a ketchup consistency.
6 Tasty and Delicious Keto Pizza Recipes
Add salt to taste, sweetener, basil, and oregano. The amount of all ingredients can be varied according to taste, but it is better to add more basil and twice as less oregano. Simmer covered for 10 minutes, chill and enjoy.
Conclusion
The sauce turns any food into a healthy pleasure if it is of high quality, natural, and does not contain dangerous ingredients. And this is often a problem because most sauces sold in stores contain synthetic colors, starch, and sugar, flavor enhancers. They often use cheap vegetable oils with unhealthy omega-6 fatty acids and trans fats. So prepare your keto sauces and enjoy healthy keto food!