If you love to cook, you probably know that the best addition to meat is a properly prepared honey mustard sauce. It will give a special sweet taste and add spice and aroma to chicken, turkey, pork, and beef dishes. In addition, it makes a great combination with fish and some seafood recipes.
Is honey mustard dressing keto-friendly? This sauce is high in carbs and not suitable for the keto diet. And if mustard and the rest of the ingredients are almost carb-free, then honey is definitely a very high-carb food that you should avoid while on keto.
How to replace honey mustard dipping sauce while on a keto diet? Are there keto alternatives for honey? Which keto honey mustard dipping recipe goes well with meat? I will tell you three of my favorite no-carb honey mustard dipping options and share a delicious pork recipe. Keep reading to find out more!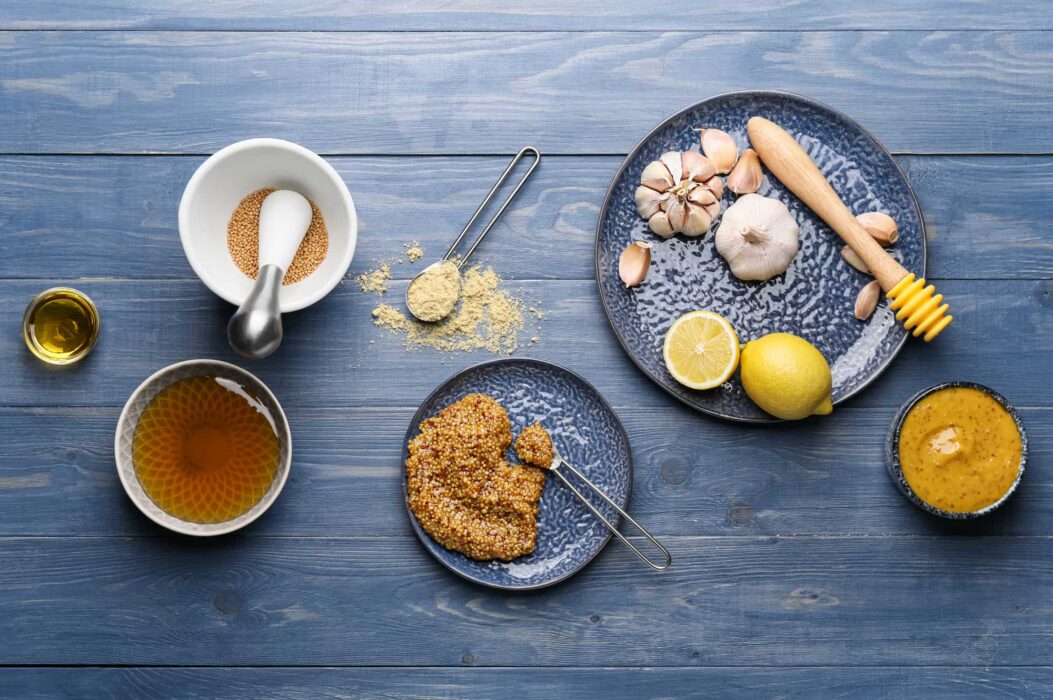 Tips for Perfect Keto Honey Mustard Dipping Sauce
It is one of the most popular and commonly used sauces, and it is suitable for various dishes. You can choose any kind of mustard – soft, spicy, Dijon, or French with grains. It all depends on which flavor you prefer the most. I usually use a mix of Dijon mustard and French mustard for a spicy flavor.
Also, you should understand that replacing the mustard will entail a change in the taste of the honey mustard sauce. For example, with Dijon mustard, the sauce turns out to be slightly spicy, while with French mustard, on the contrary, it turns out even sweeter.
We all love different tastes – salty, sweet, bitter, spicy, and sour. Therefore, choose spices, herbs, and seasonings, focusing on your taste and a particular dish. If you are trying to add some kind of spice to this sauce for the first time, keep in mind the reasonable amount (for example, chili pepper).
Carbs in Honey: Why Should You Avoid Honey on Keto?
In some recipes, you may find a sauce with the addition of minced or dried garlic, soy sauce instead of salt, or raw egg yolk. There are many different honey mustard dipping sauce options, and you will definitely find your favorite if you try to experiment. I offer you three of the easiest and most delicious keto honey mustard recipes. However, first, let's figure out how to replace honey, which is required in all recipes.
Keto Honey Substitutes
Limiting carbohydrates in your daily menu is no reason to limit yourself to delicious honey recipes. You just need to find low-carb honey substitutes that have the same smooth taste and aroma without the extra carbs. Here are my favorite keto honey substitute options:
Keto Honey Mustard Dipping Sauce Recipes
Honey, Mustard, and Olive Oil
Ingredients
Keto honey substitute 2 tablespoons

Mustard (to your taste) 2 tablespoons

Olive oil 2 tablespoons

Lemon juice 1 tablespoon

Salt and pepper to your taste
Preparation
Combine the keto honey substitute, olive oil, mustard, and lemon juice in a bowl. Blend all ingredients with an immersion blender until smooth. Let the sauce sit for 5 minutes, add salt and pepper, and beat for a couple more minutes until the salt dissolves.
Honey, Mustard, Lemon, and Ginger
Ingredients
Dijon mustard 1 tablespoon

Keto honey substitute 2 tablespoons

Olive oil 2 tablespoons

Lemon juice 1 tablespoon

Ginger 10 grams

Salt to taste
Preparation
Peel the ginger and grate it on a fine grater. Place the mustard, honey substitute, lemon juice, and olive oil in a bowl and blend with an immersion blender until smooth. Add the ginger and salt and beat for a couple more minutes until the sauce is smooth.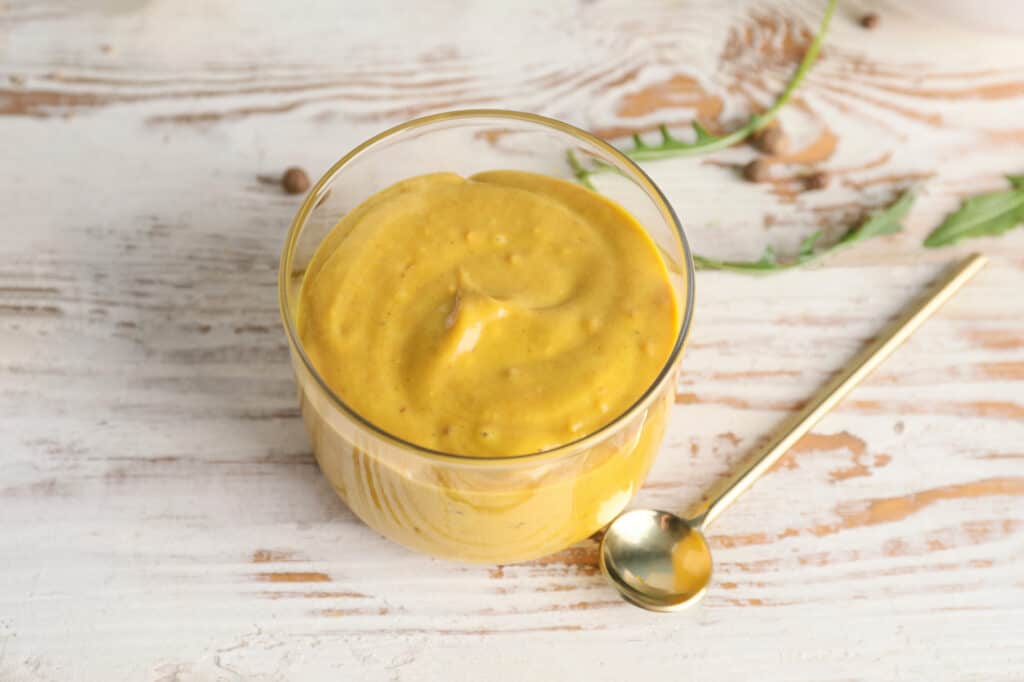 Honey, Mustard, Onions, and Soy Sauce
Ingredients
French mustard 100 grams

Keto honey substitute 150 grams

Soy sauce 2 tablespoons

White onion 60 grams

Fresh ginger 10 grams
Preparation
Put the peeled onion, honey substitute, fresh ginger, and soy sauce into the blender bowl. Whisk the sauce, add the French mustard, and mix thoroughly with a whisk or fork. Let the sauce rest in the refrigerator before eating it.
Yummy Bonus: Keto Honey Mustard Baked Pork
Ingredients
Pork in one piece 3 pounds

Dijon mustard 100 grams

Honey substitute 3 tablespoons

Grated ginger 20 grams

Garlic 2 cloves

White pepper

Turmeric

Tarragon

Rosemary

Basil

Salt and pepper to taste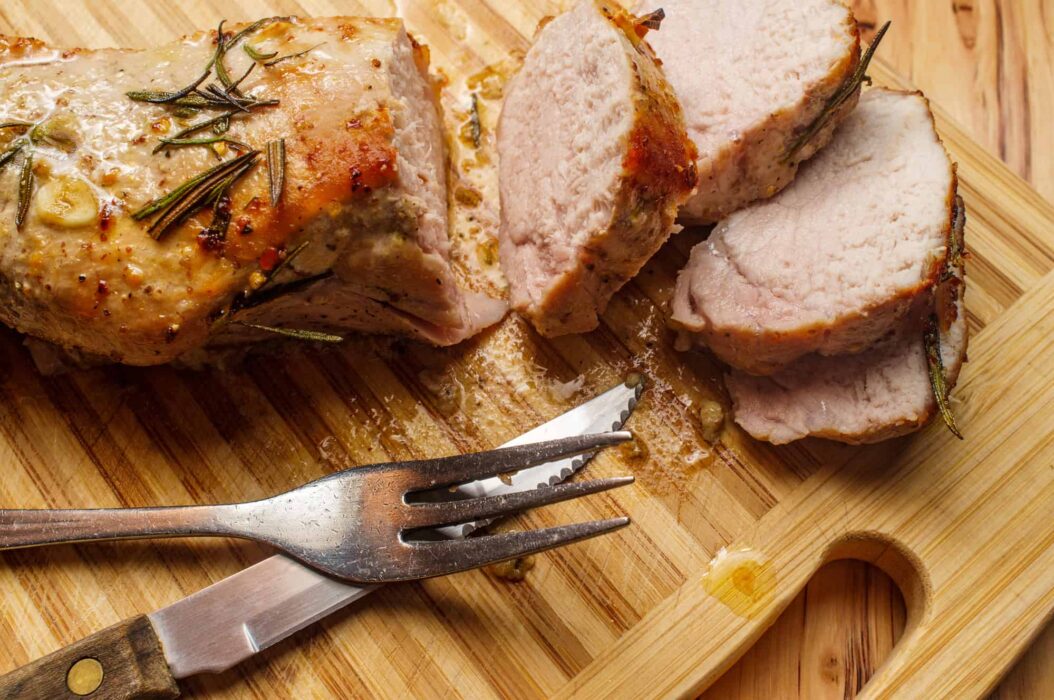 Preparation
In a deep bowl, mix honey substitute and Dijon mustard. Beat it until smooth. Add all spices and herbs except garlic and mix thoroughly.
Take the pork, wash, dry, and put on foil. Cut the meat in several places and put the pieces of garlic in the cuts. Rub meat well with the sauce and wrap in foil. Place the foil-wrapped meat on a baking sheet, positioning it so that the "seam" of the foil is on top so that the juices of the meat do not leak out during baking.
Place the baking sheet in the oven, preheated to 380 degrees. Bake the meat for about two hours, depending on the exact size. Once the meat is cooked through, open the foil on top so that the meat is golden brown and crispy. You can baste the meat with juices that leaked out during the roasting process to make the crust even tastier.
Is Mayo Keto? 7 Tips and Tasty Low-Carb Recipes
Remove pork with low-carb honey mustard dressing from the oven and store in foil. Enjoy!
Conclusion
You can serve keto honey mustard sauce with meat, poultry, and fish, as well as a variety of fresh vegetable salads. Try it for marinating lamb ribs or fish. You should keep the keto honey mustard dressing in an airtight jar in the refrigerator for up to a week. This sauce is low in carbs and is a great addition to many keto dishes, giving you a sweet low-carb taste. Bon Appetit!