Pork rinds are an amazing food for the keto diet. They contain protein, fat, and zero carbs, making them a great snack without hurting your ketosis. Pork rinds have become a part of keto cuisine not only because they are a puffy and crispy snack. Crashed pork rinds make a great keto breading for meat, chicken, fish, or baked cheese. They can also be part of keto pancakes for a denser texture.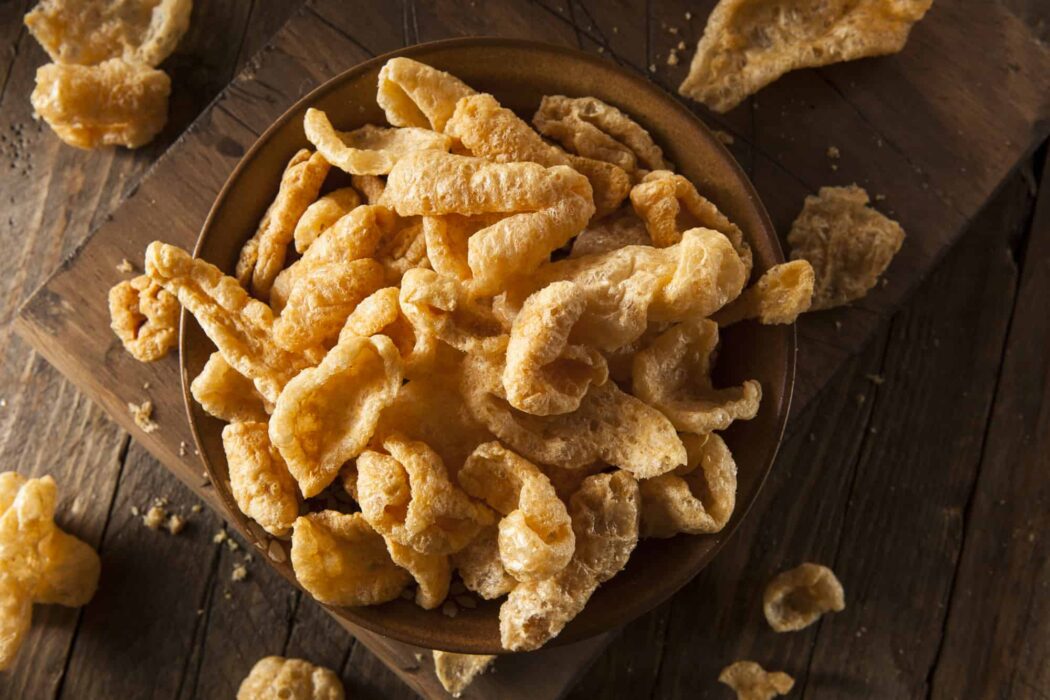 But what if you are Kosher, Muslim, vegan, or don't like the pork taste? How to replace pork rinds on keto? There is a way out for you!
There are several alternatives to keto pork rinds, both for perfect breading and as a hearty, crunchy snack. For example, you can use chicken skins, keto flour, grated cheese, or nuts for keto breading or make cheesy chips or salmon skin rinds to have a perfect keto snack.
Carnivore FAQ: Main Rules to Follow
I will tell you some simple recipes to use as keto breading or just enjoy a crunchy snack. Keep reading for all the details!
How to Replace Pork Rinds Breading on Keto?
Very often, we miss breading on a keto diet. There are many recipes for meat, fish, and even shrimps fried with crispy breadcrumbs. However, classic breading is high in carbs and ruins all your weight loss efforts. Crashed pork rinds are one of the easiest keto breading options that give you a crunchy texture without the extra carbs. But how do you replace pork rinds breading on keto? There are some great options that you can use for frying or topping keto salads! I will tell you about these options, supplementing them with simple recipes.
Almond Flour
You will need this amount of ingredients for 300 grams of chicken, fish, shrimp, or cheese.
100 g almond flour
30 g lemon zest (or lime zest)
20 g fresh parsley
1 egg
20 g butter for frying.
Whisk the egg in a separate bowl. In another bowl, mix almond flour, zest, and chopped parsley. Cut the food you want to fry. Dip the pieces first in the egg, then in the flour mixture, and fry it in oil or bake in the oven at 380 degrees. When the breading turns golden brown, your keto dish is ready.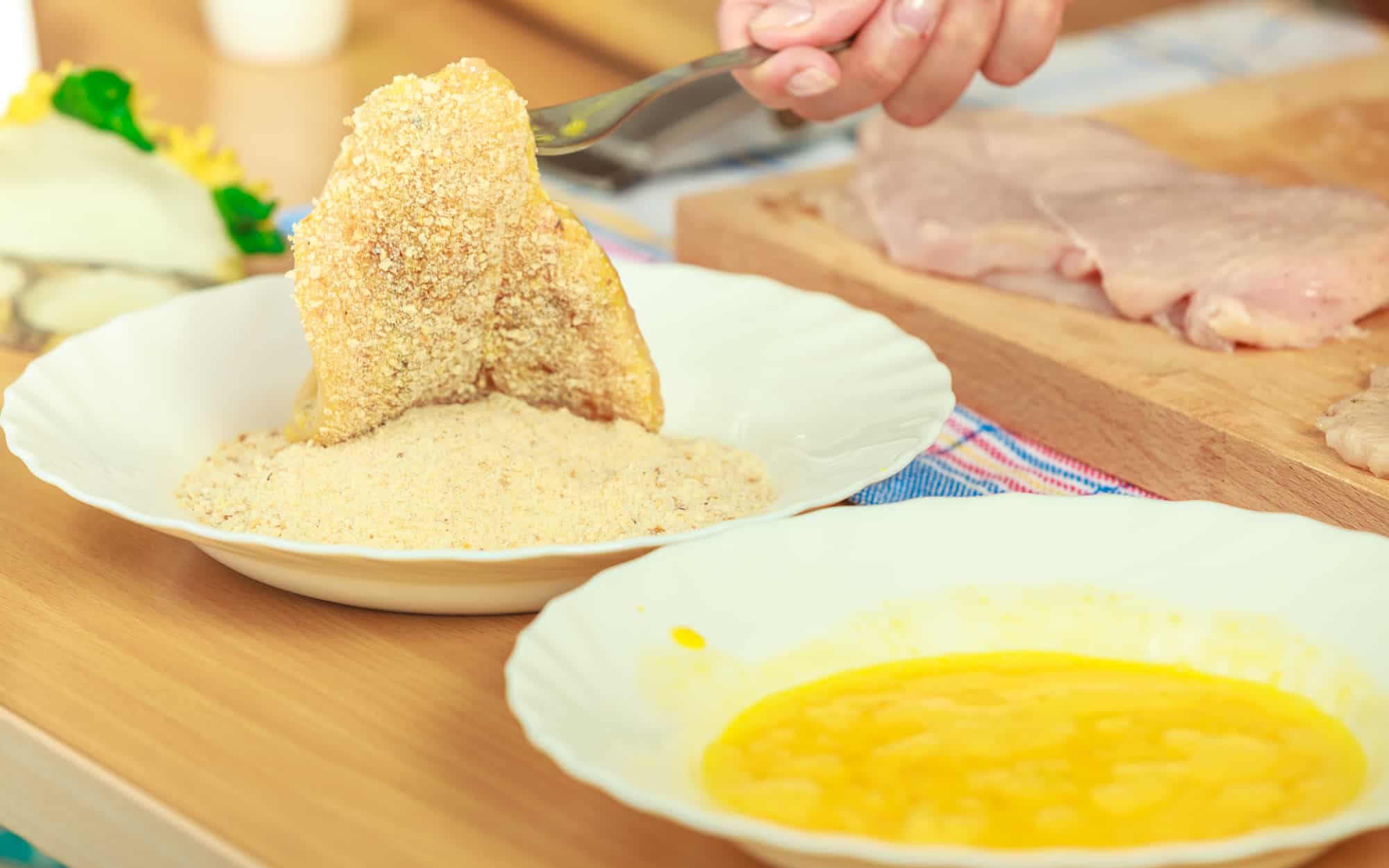 Pecan
This amount of ingredients are also suitable for 300 grams of the main meal. This recipe goes great with fish and shrimps.
100 g ground pecan
1 egg
1 teaspoon of psyllium
½ tsp. chili flakes
salt and pepper to taste
20 g butter or ghee for frying.
Thoroughly mix the nuts, chili, black pepper, and psyllium in a separate bowl. In the second bowl, break the egg and stir it with a fork. Heat up the oil in a frying pan. Cut the fish into 3 parts, salt, dip in the egg, then in the breading, and fry in hot oil.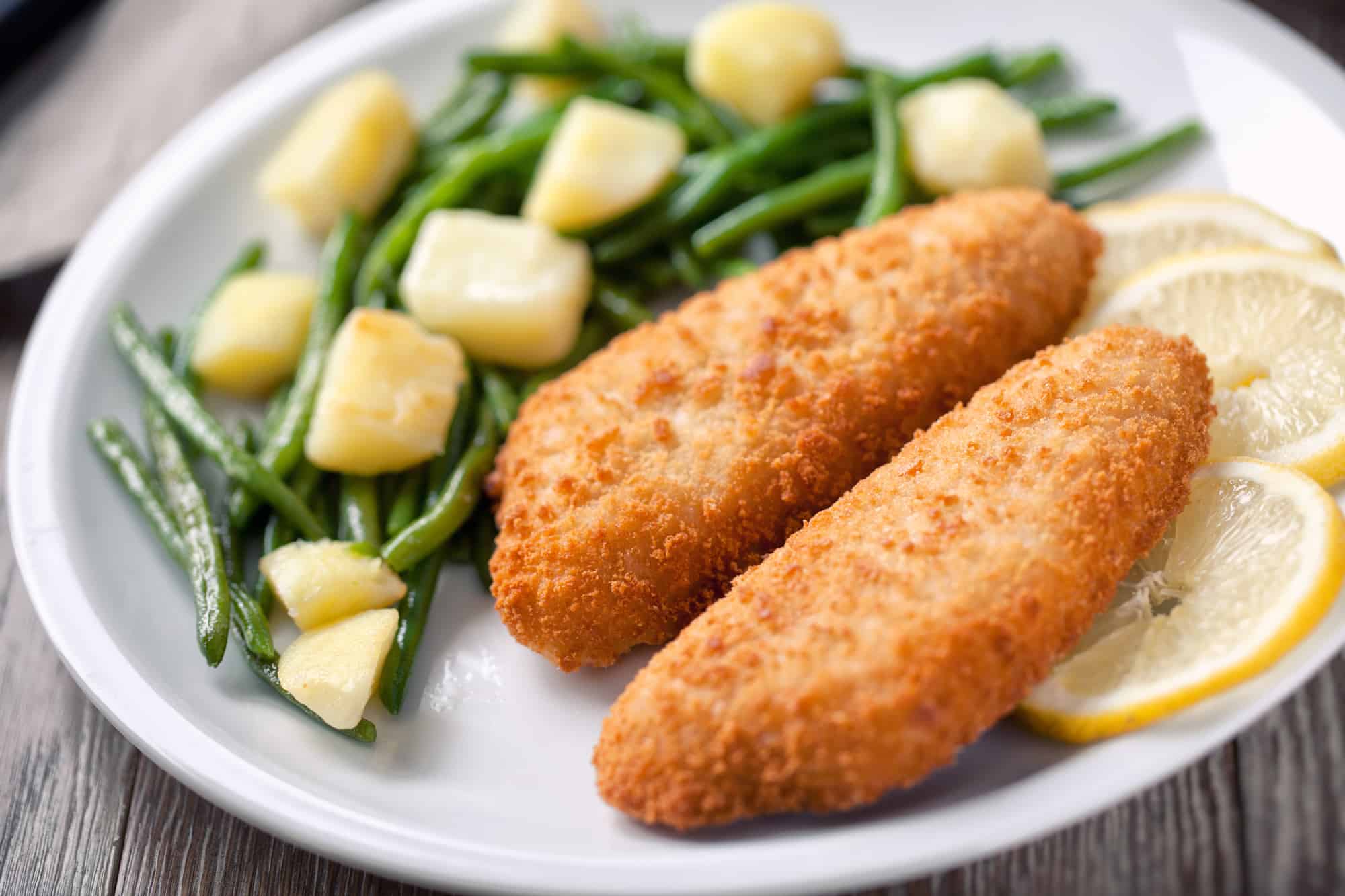 Grated Parmesan
This amount of ingredients is suitable for 400 grams of any food. This breading goes well with chicken and cheese sticks.
60 g almond flour
100 g grated Parmesan
20 g garlic
1 egg white
Herbs
Spices, salt
20 g butter.
Separate the whites from the yolk and pour it into a separate bowl. Grind the rest of the ingredients in a blender. Cut the main food into 8 pieces. Dip each piece first in egg white, then in flour and cheese mixture. Fry in a hot skillet in oil until crispy.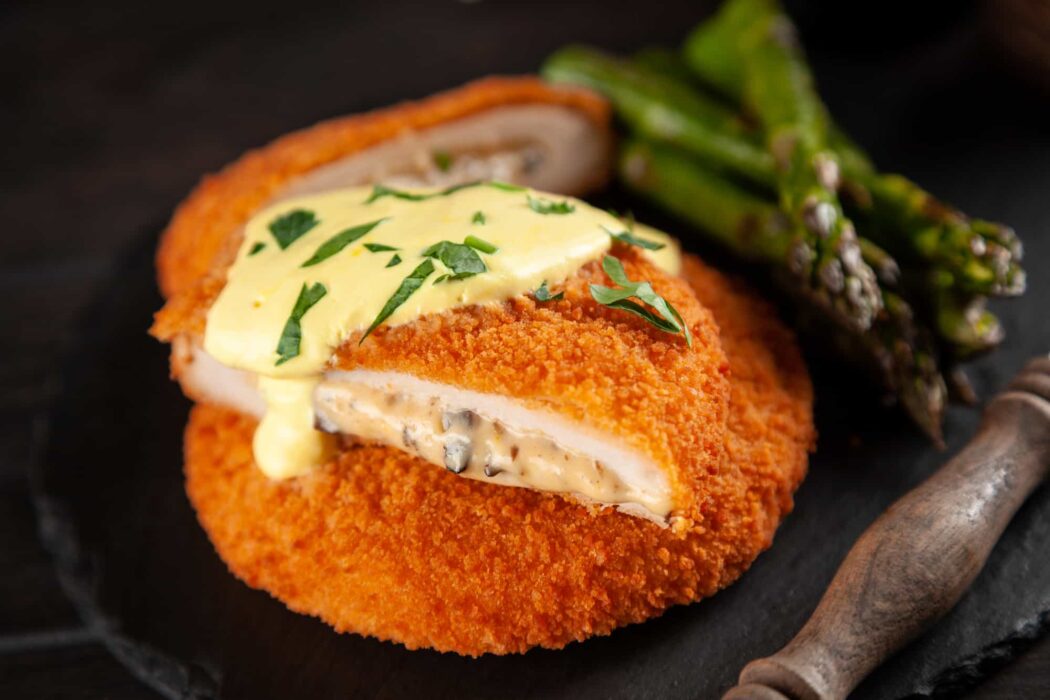 Flax Meal
These ingredients are suitable for breading 500 grams of any food. Try this recipe paired with keto bread, chicken strips, or shrimps.
1 egg
60 g flax meal
60 g coconut flakes or chips
1 tsp. sweet pepper
1 tsp. garlic powder
Dried herbs
30 g butter.
Whisk the egg in one bowl and mix the rest of the ingredients in another. Dip the sliced pieces one by one into the egg and keto breadcrumb mixture. Fry or bake until crispy.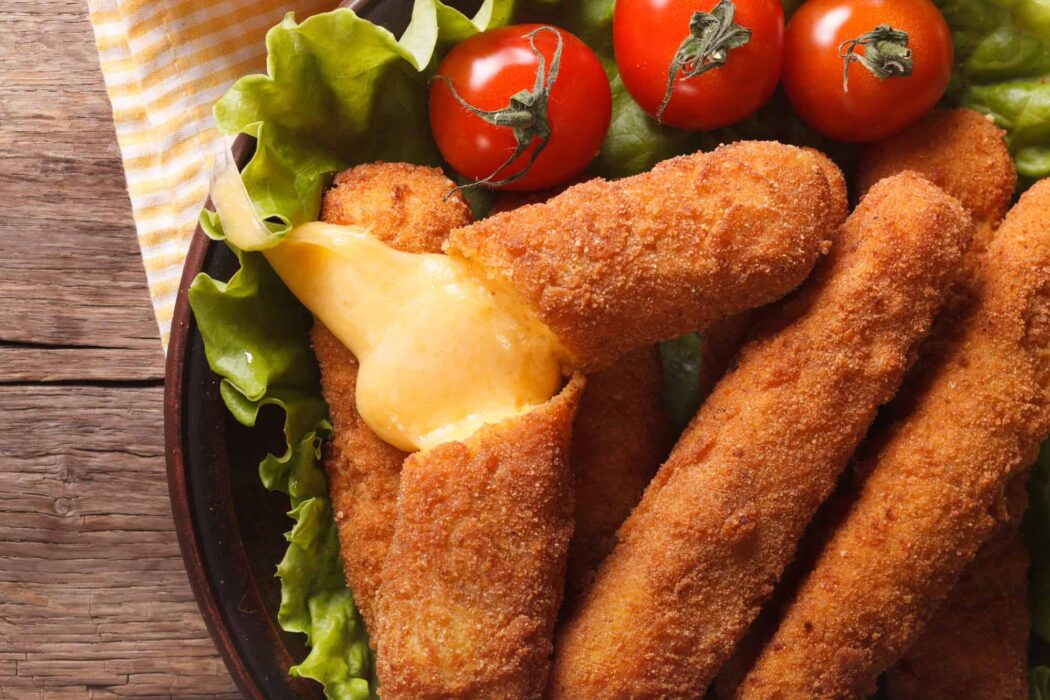 Tips for Keto Breading
Keto breading will help make your menu more diverse because, with it, the taste of the usual chicken or fish becomes completely different. There are a few simple guidelines that will help you cook the keto breading even tastier and easier.
You can fry not only fillets in breading. Chicken and fish are the most common options, but not the only ones. Only on a keto diet can you enjoy the amazing taste of crispy cheese sticks and lose weight. You can fry shrimps, onion rings, squid rings, vegetables, keto bread —anything you want.
Carnivore Diet Meal Plan for Beginners
It is better to slightly fry or bake the meat, chicken, or fish beforehand. Keto breading will cook much earlier than the pieces themselves, especially if they are large. Fry breaded pieces of food on both sides and in plenty of oil. Choose butter or ghee for a crispier crust. Breaded food can also be cooked in the oven on a baking sheet previously lined with parchment or oiled.
For a crispier and denser crust, dip the chicken, cheese, or fish pieces into the egg and keto breading several times. This will give you more of a crispy crust. You can also replace pork rinds with chicken skin rinds by chopping them up and replacing them in the breading recipe. Or use any keto bread recipe – dry it and grind it into fine crumbs.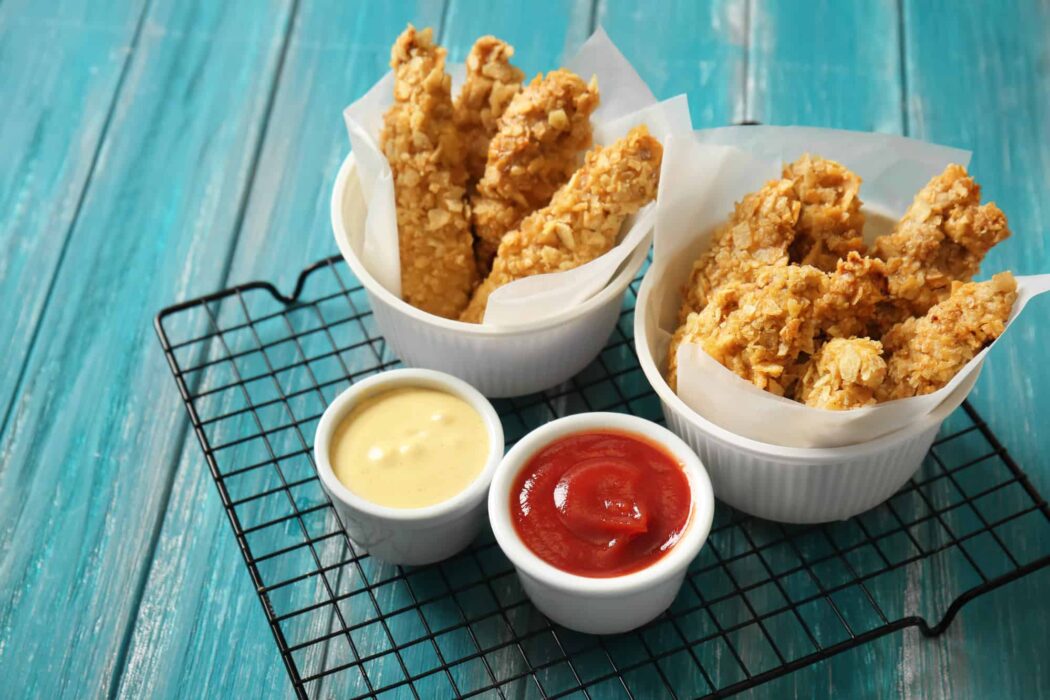 How to Replace Pork Rinds for a Keto Snack?
I have told you about simple keto breading recipes that you can use instead of pork rinds. But what if you want to replace pork rinds for a low-carb snack? In this case, several options contain zero carbohydrates. Rest assured, it's love at first bite!
Chicken Rinds
Grilled chicken skin is most similar in taste to pork rinds. It also contains zero carbs and is a satisfying snack on a keto diet. Preparing it is very simple – you just need to cook it the same way as you prepare pork rinds. Choose the skin from the chicken breast – it is even and thick enough there, unlike the skin from chicken wings, which is difficult to remove without damaging it. You can also try using duck breast skin, but it needs to be baked longer as it contains more fat.
Rinse the chicken skin and cut it into pieces a couple of inches long and one inch wide. Place the pieces on a baking sheet and bake until they are crispy. You can also fry them in oil then put them on a paper towel to remove excess fat.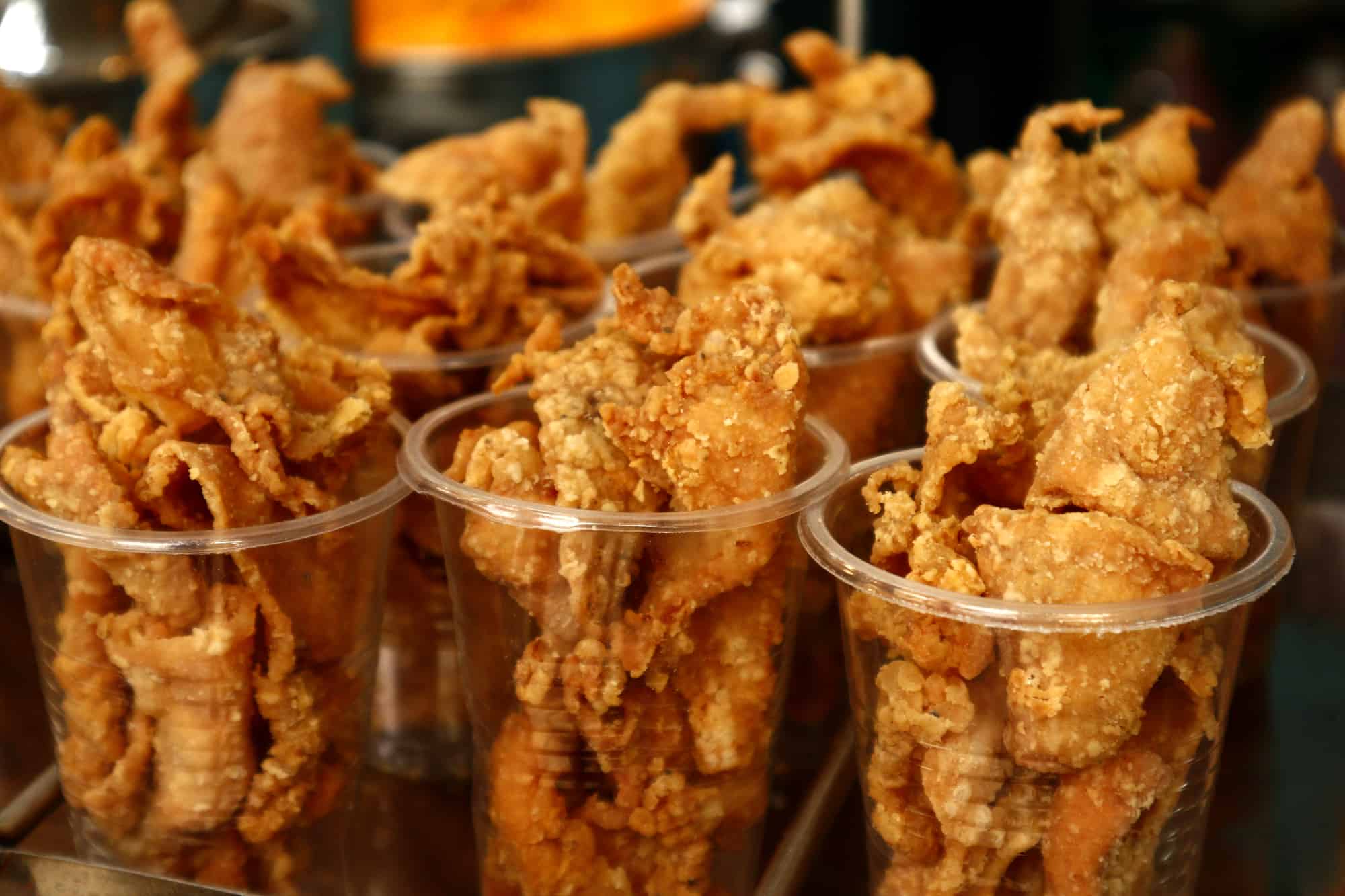 Salmon Skin Rinds
When cooking salmon, you most likely skin the fish and throw it away, considering it is not necessary for eating. However, salmon skin has a high content of nutrients, and it can be a good addition to the diet due to the high content of fatty acids, Omega-3, selenium, minerals, and protein.
One of the simplest cooking methods is fried salmon skin, the so-called salmon bacon. These are thin strips of fish skins fried in a small amount of oil or baked in the oven.
Making this snack is as easy as making chicken rinds.
Carnivore FAQ: Foods to Eat and to Avoid
First, separate the fillet from the skin of the salmon. Cut the strips into small pieces, dry, and wait a while to remove all moisture. Next, add your favorite oil to the pan and turn on the stove to medium heat. Put the dried pieces of skin on a hot frying pan. Turn them over a few times to avoid burning. When the pieces become golden and crispy, remove them from the pan and put them on a paper towel to remove excess fat.
Add your favorite spices and enjoy a crispy keto snack!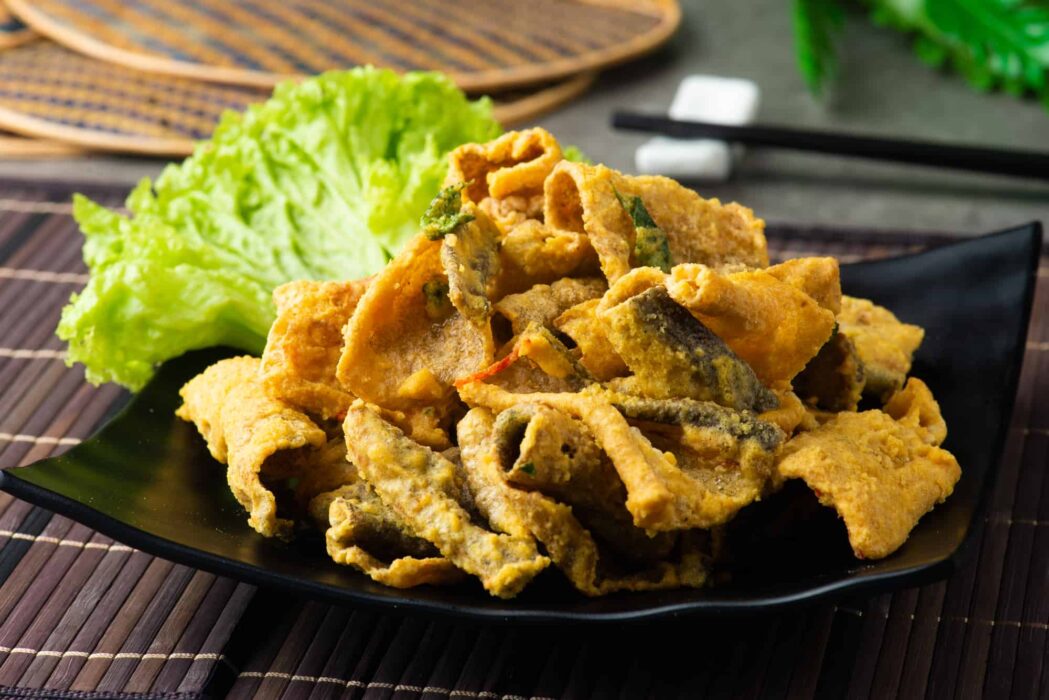 Cheese Chips
For this recipe, you need only cheddar and your favorite spices. Cheese chips are very easy to cook and they are a great keto potato chips alternative. They make a great keto snack and a topping for a variety of salads.
Cut the cheddar into thin square pieces about a couple of inches wide and 3mm thick. Preheat the oven to 380 degrees. Lay the cheese slices on a baking sheet lined with parchment paper. Season with your favorite spices and salt. Bake for about 8-10 minutes, but be careful not to burn the cheese. Let the chips cool down completely so that they become very crispy.
You can also make cheese keto popcorn. It's also very easy! Cut the cheddar into half-inch cubes, arrange the cheese slices on a baking sheet, and set them aside in a dark, dry place for a couple of days. I put the baking sheet in the oven, slightly opening the oven door. Your task is to dry the cheese naturally. Depending on the thickness of the pieces, it will take 2-4 days for the excess fat to come out and the cheese to dry out. Place the baking sheet in a preheated oven at 390 degrees and bake until the cheese pieces increase in size and are completely dry. Let your keto cheese snack cool completely for a crunchy, fluffy texture.
Conclusion
I love the keto diet because it allows you to find an alternative to any high-carb recipe and enjoy your favorite foods without compromising ketosis and healthy weight loss. For example, if you cannot or do not want to eat pork for some reason, you have several substitutes for pork rinds on keto. Try these recipes, and you will find your favorite one!