Doing yoga is a popular thing. Around 36 million people in the USA are practicing these days. If you prefer to practice without a yoga mat, then no problem, as there are many alternatives for yoga mats. But when you start looking for a yoga mat to buy, you may be confused by the many models and sizes. 
A yoga mat should be comfortable for you and fit your needs. If you're a plus-sized person, you will need a unique yoga mat to do all the yoga poses. Good grip, adequate sizing, and comfort are the points to look for in a yoga mat for plus size.
Why Special Yoga Mat for Plus Size?
Let's face it, doing yoga if you are overweight is not an easy task. But the good news is that you can make your yoga routine comfortable. You may also want to go for a specific yoga class for people of plus size. Yoga poses and equipment indeed have to be modified if you're an overweight person. Yoga mats for plus sizes offer better cushioning, and they are usually bigger than regular yoga mats. In addition, a yoga mat for plus size should allow you a proper grip so that all asanas are available for you.
Yoga Mat for Plus Size: What to Look For?
To choose the right yoga mat for plus size you should consider these points:
Dimensions
Thickness
Material
Weight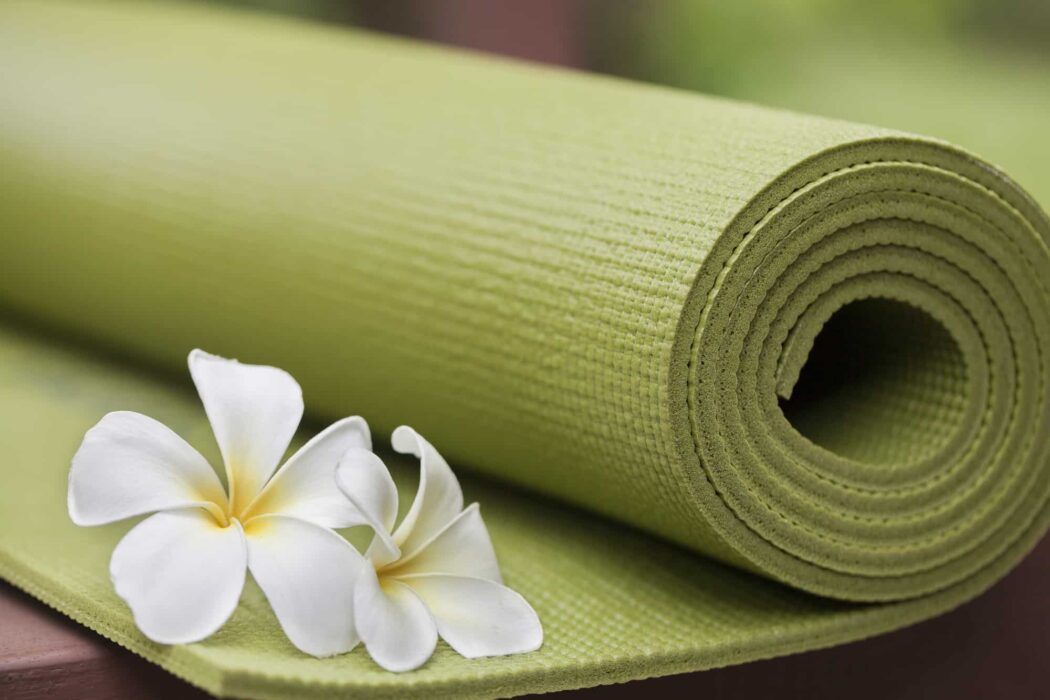 Dimensions
Usually, yoga mats are 24 inches wide and 68 and 72 inches long. Choose the width depending on your needs and consider the place where you plan to do yoga. If you're tall, go for a longer yoga mat. Some yoga studios don't allow wider yoga mats as, in this case, they will have trouble accommodating enough people in the class because wider and longer yoga mats won't fit into regular mats' rows.
5 Reasons Why You Need a Yoga Mat
Thickness
It would help if you also considered the best thickness for a yoga mat. Yoga mats' thickness varies from pancake thin to comfy and supportive. The thickness of your yoga mat is up to your personal preferences. Thinner yoga mats allow a better feel of the ground, which is suitable for standing poses. If you have sensitive knees or back, then go for thicker options as they allow more support and comfort during yoga practice.
Material
Most yoga mats are made of rubber or synthetic plastic polymer called PVC (polyvinyl chloride). Rubber mats are more sustainable as they are made of biodegradable rubber. But if you are allergic to latex, that may not be an excellent fit for you. Also, PVC allows less grip than rubber mats so that it may feel slipper for you.
Weight
If you practice at home, transporting a big heavy mat is not an issue. But this is a point to consider if you need to move the mat with you 3-4 times a week. The weight is defined by the size and material that you have chosen. Thicker mats tend to weigh more.
6 Best Yoga Mats for Plus-Sized People
We've made a list of top yoga mats suitable for people with plus size.

This large yoga mat from Yoga Direct is sized right for overweight yogis. It weighs 2.47 kilos; you will easily take it with you to your training. In addition, if you practice on a tile floor, this mat will ensure proper grip, and you won't slide during yoga practice.
This mat is 36 x 72 inches big. Therefore, it will suit tall people too, as they can easily fit into the mat. Plus, the price is very affordable for such a large mat.
Pros
Durable
Lightweight
Extra wide
Weighs 3 pounds
Cons
Available only in black color

This mat is thicker than regular ones for extra cushioning during the yoga session. Both sides can be used but remember that one side offers a better grip than another. In addition, this mat is quite narrow to fit it into regular yoga studio rows.
As a downside, users report that this yoga mat for plus size goes dirty quite fast, so be ready for some extra cleaning work if you choose this option.
Pros
72 x 0.25 x 24 inches big
Weighs 3.3 pounds
Non-slip coating
Cons
Needs cleaning more often than other mats

This is a durable but very lightweight yoga mat. It will provide enough padding for your knees. This is a PVC yoga mat that will have a slight odor when it's new. So you need to whip it and air it out before you start using it. The design of this mat is very stylish. Mat comes in more than 10 bright colors so you can find any for your liking. The mat is covered with special non-slip coverage to provide a proper grip.
Pros
Available in two sizes 68″L x 24″W or 78″L x 26″W
Availbale in 4mm or 6mm thickness
Extra lightweight and weighs only 0.9 kilograms
Cons
Has slight odor fwhen new

This is a professional extra-supportive 6mm thick yoga mat for advanced yoga practice. The Germany-crafted mat is very durable and thick. It will prevent any knee pain. The closed-seal covering prevents mat from soaking any moisture and ensures easy cleaning after the class.
This yoga mat is certified under STANDARD 100 by OEKO-TEX so it's 100% safe and free of harmful substances.
Pros
71 x 26 x 0.24 inches
6 mm thick
Ultra dense cushinoning
Professional quality, good for advanced yoga practice
Cons

This mat would turn out impeccably for a pad on a concrete kitchen floor. The mat is very 3/8″ thick and has delicate padding that would function admirably as a mat to remain upon.
This mat works well if you practice Ashtanga yoga actively as it's super durable. Made in the USA, it contains no harmful chemicals and is safe for children and pets.
Pros
Size 30″ x 72″

Made in the USA
Extra durable
Cons
Heavy and hard to transport

Adequate Cushion and Resilience support your body in any posture and actually safeguard you and decrease your joint strain.
72L x 32W: more extensive than regular mats and sufficient room to do various stances appropriately; never feel confined by CAMBIVO wide mat.
Accompanies a strap can be utilized as a conveying lash and serve as an extending strap during training.
Pros
Weighs only 2 pounds
Odorless
Soft and cushy
Waterproof
Cons