Today yoga mat manufacturers use a wide variety of materials to produce yoga mats. They divide into two big groups: natural and synthetic. Some yoga mats are made of the mix of natural and synthetic materials. This whole thing can be confusing.
So, what material are yoga mats made of?
To answer this question shortly, let's say that yoga mats can be produced from Polyvinyl Chloride (PVC), Thermoplastic Elastomer (TPE), and Polymer Environmental Resin (PER). On the other hand, there are also natural materials such as cotton, jute, natural rubber, and cork.
This short guide will answer the questions
What material is used for yoga mats?
Which yoga mat material is the best?
What is the safest material for a yoga mat?
Before we start, let's look into some yoga mat materials properties.
Yoga Mat Material Properties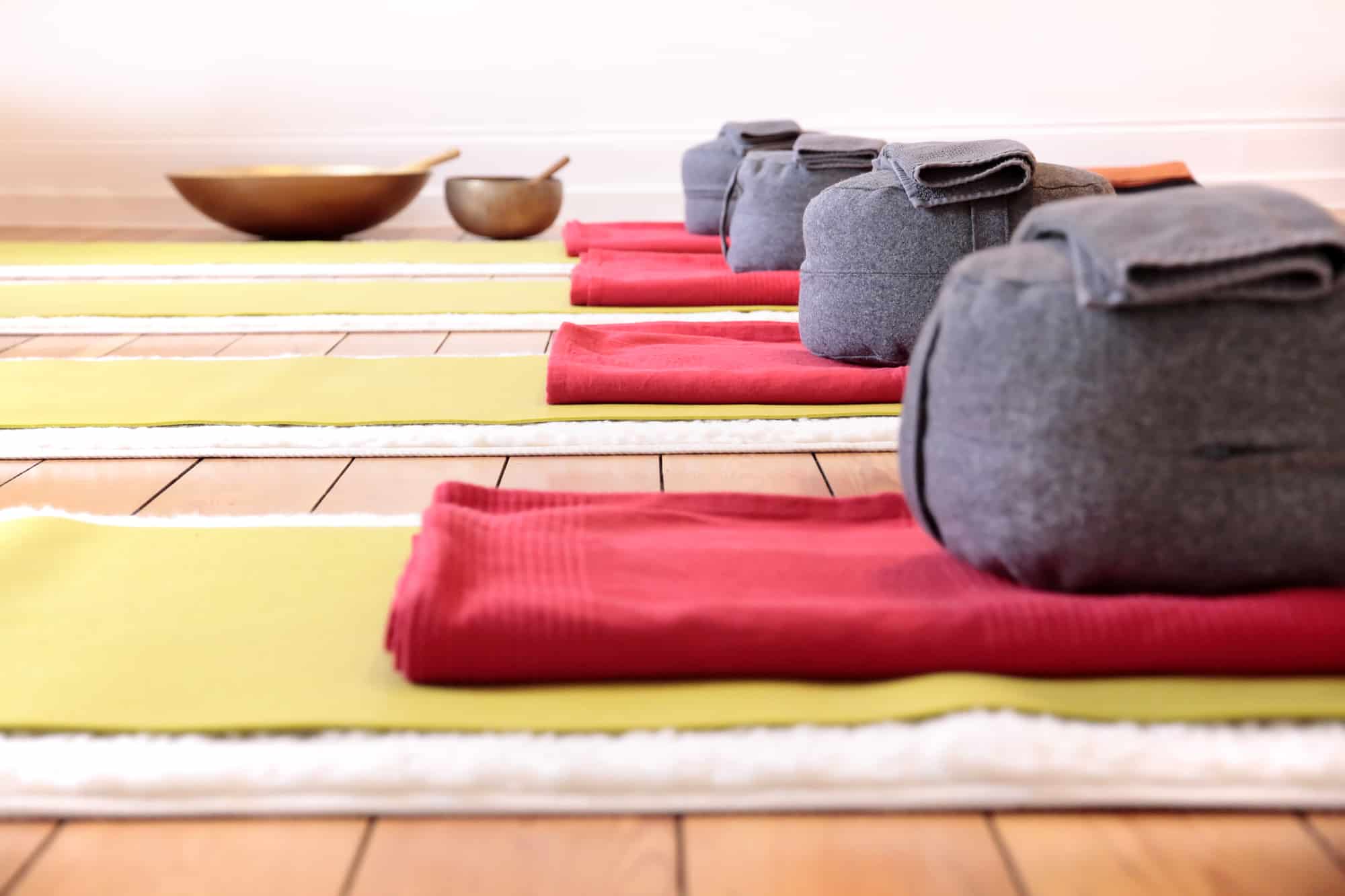 Yoga mat materials have various properties that lead to them being more or less suitable for practicing yoga poses. Here are checkpoints you should consider before choosing a yoga mat.
Thickness
The more material is used to make the mat, the thicker it will be. Thicker mats allow more cushioning and comfort. But they are usually less portable.
Breathability
The density of the material defines its breathability. The denser the material, the less breathability it will have. The yoga mat with good breathability absorbs the body heat well and dissipates it fast. Here you'll need to find the harmony between density and breathability.
5 Reasons Why You Need a Yoga Mat
Free of dangerous chemicals
Some cheap forms of PVC and EVA material bear risk to your health. Harmful chemicals are used in the synthesis of these substances. They may irritate the skin or release an odor that can cause allergies. So you'll want your mat to be safe and made of non-harmful material.
Flexibility and weight
Flexible mats are easier to carry around and fold when it's necessary. Some lightweight materials like cotton or TPE can make your yoga mat flexible enough.
Durability
The performance of your yoga mat is determined but its durability. And, of course, more durable mats last longer, which prevents your budget from any extra spending. Heat, water and abrasion resistance, tactile strength, and elasticity all define the durability of your mat. In addition, many synthetic materials like PVC, NBR, Polyurethane, TPE, and PER are all very durable.
Moisture absorption
This property is crucial when you sweat on your mat a lot. Some porous materials like cork and cotton provide enough moisture absorption for those who reside in regions with high moisture levels.
Types of Yoga Mat Materials With Pros and Cons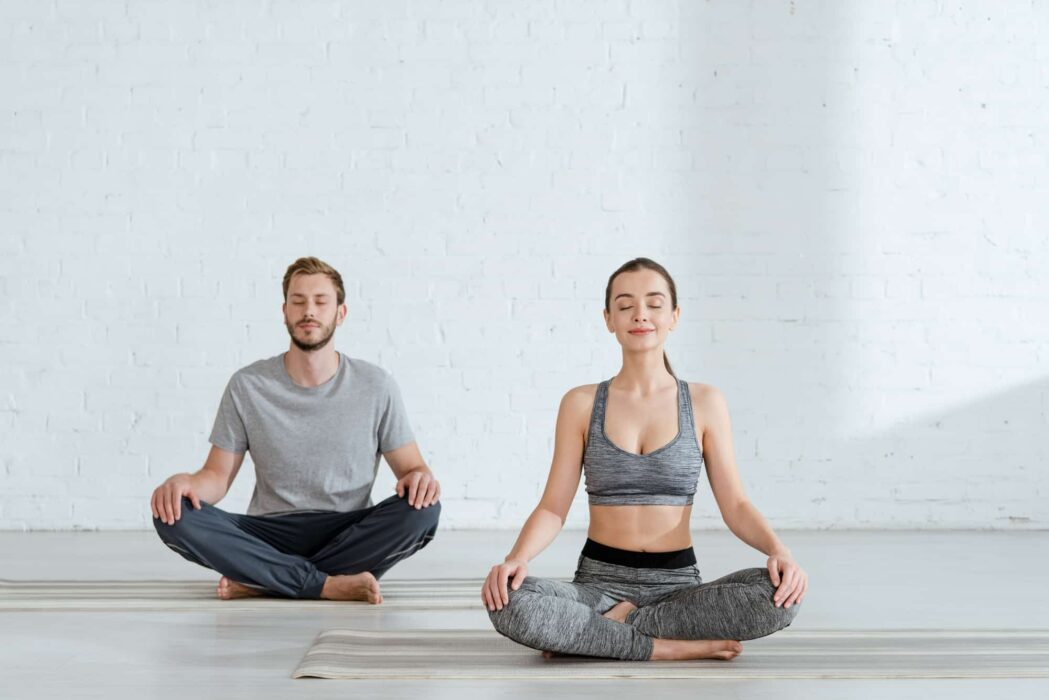 This material is pretty cheap and suitable for producing yoga mats. This synthetic plastic polymer, otherwise known as vinyl, makes yoga mats lightweight and easy to store. Still, the quality of PVC mat will vary depending on the manufacturer. Some companies produce low-cost mats that may not be safe for you to use if you have sensitive skin. Another type of PVS is Polymer Environmental Resin, known as an environmentally friendly type of PVC.
Pros
Cons

Low cost
High durability
Easy to store
Sticky enough

Emits harmful odor
Can cause skin rashes
Thermoplastic is a mix of thermoplastic and rubber, so it gets the best from both. It is recyclable, solid, flexible, and resists impact well as a thermoplastic. Plus, it's very lightweight. But, on the other hand, it has elastomer properties such as heat resistance.

Pros
Cons

Cost effective
Long-lasting and durable
Odorless
Travel-friendly because you can easily fold it

Doesn't absorb moisture well
Sun-sensitive so you can't practice or store under direct sun rays
Yoga mats made of a mix of normal elastic and polyurethane material mix the surface and maintainability of regular materials and the strength and sturdiness of modern blending.
The normal elastic itself is an excellent material for a yoga mat like we have talked about before. However, polyurethane is basically biodegradable plastic. Presently adding Polyurethane to it improves the mat protection, adaptability, and pad, which are generally inaccessible with regular elastic. Adding Polyurethane likewise reduces down on the expense of unadulterated elastic.

Pros
Cons

Highly biodegradable, needs 1-5 years to full dissolve
Combination of two material get perfect balance of softness and toughness.
Easy to clean
Perfect grip

The model is on the pricey side
Natural rubber is the cleanest material used to make yoga mats. This material is designed with organic polymer and some water. It has been known as a material for yoga mats even earlier than foam or PVC. The surface of such yoga mats may be hard, but that allows good grip properties instead. You should confuse this material with synthetically produced rubber, which is like a natural one.

Pros
Cons

Environmental friendly
Offers good cushioning and is grippy enough
Can withstand wear and tear well
Provides good worth for its price

Are on the pricey side
Their thickness makes them difficult to take with you
Jute is a natural material for yoga mats that don't require much explanation. Since ancient time, it was used to produce carpets and rugs. However, when it comes to yoga mats, manufacturers tend to mix natural jute with some Polymer Environmental Resin for better flexibility of the yoga mat.

Pros
Cons

Weather-resistant
Biodegradable
Highly durable
Offers proper grip and stability

Allows less cushioning than foam and PVC mats
Has low heat resistance
Cork is relatively new when it comes to producing yoga mats. Because simply cork will literally slip the ground, all cork yoga mats are produced on the PTE or rubber base. The cork is fully natural because made of tree bark and comes with its pros and cons when you use it.

Pros
Cons

Extra easy to clean
Comes from renewable source
Very breathable and absorbs the moisture well
Skin-friendly doesn't cause any allergic reactions because its natural

The price is high compared to synthetic yoga mats
Has low flexibility which makes it hard to take the mat with you
In fact, ancient yogis used cotton rugs for their practice. However, cotton is a too soft and not durable material for advanced yoga poses. That's why the manufacturers mix it with hemp and add some rubber base for better contact with the ground.

Pros
Cons

Fully natural, recyclable and biodegradable
Provide great moisture absorption
Super lightweight and can be easily carried around
Can be folded easily

Wear and tear resistance is very low, won't serve you for years
Not cost-effective