Lasagna is a delicious hearty dish that is popular all over the world. There are many options for lasagna recipes, but almost all of them are high-carb. Is there any lasagna option for those on a keto diet?
Eggplant lasagna is a great low-carb alternative to classic lasagna. This vegetable goes well with spicy tomato sauce, juicy ground beef, and tender cheese, making for a great high-fat dinner without the extra carbs. Eggplant and ground beef are a great combination, and you definitely need to try it!
If you love lasagna but for some reason do not like pasta, avoid gluten, or follow a low-carb diet, then I suggest you cook low-carb eggplant lasagna. It sounds a little unusual, but in fact, it is a good old casserole with eggplant, minced meat, and cheese. Try it, and you won't be disappointed. Keep reading to find out all the details!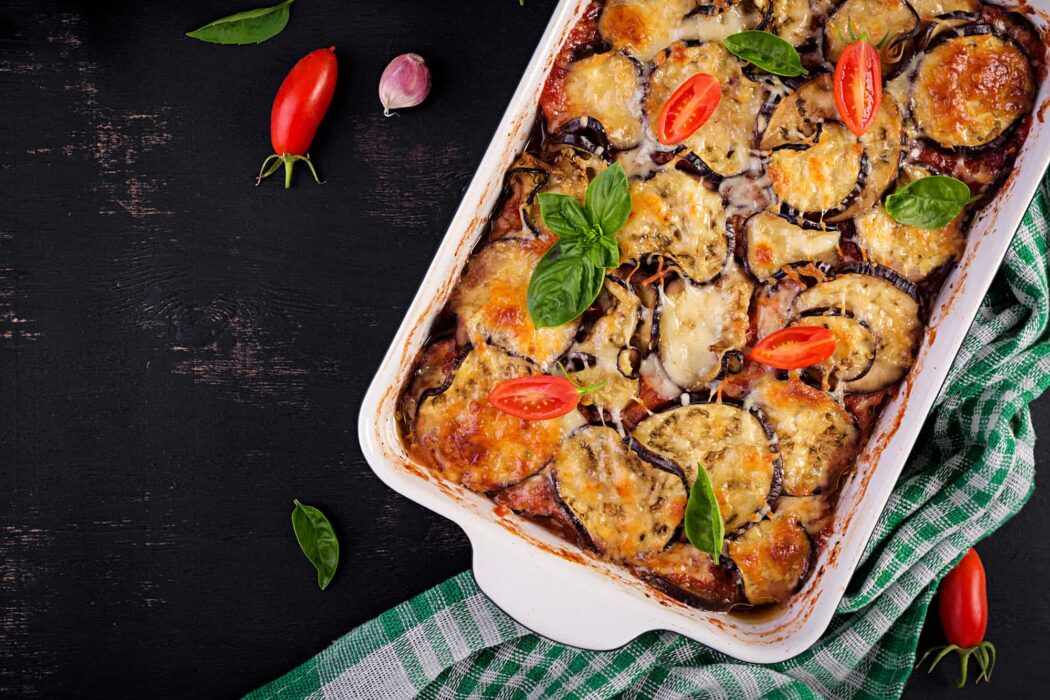 But first…
Is Eggplant Keto?
100 grams of eggplant contain:
24 calories

2 grams of protein

1 gram of fat

5 grams of carbohydrates

5 grams of fiber

2 grams of net carbs.
Yes, eggplant is keto, so you can add it to your low-carb menu in any amount. Besides, all the other ingredients in this keto eggplant lasagna are also low in carbs. It does not contain flour or other carbohydrates in either the sauce or other ingredients, so keto lasagna is a great choice for a keto dinner.
6 Tasty and Delicious Keto Pizza Recipes
Tips for the Perfect Keto Lasagna
Few people cook eggplant regularly because it tastes quite specific, ​​and not everyone knows how to cook them deliciously. However, such culinary experiments can lead you to unexpectedly appetizing results. 
The pulp of overripe eggplant contains a large amount of the toxic alkaloid solanine. So eggplant should be soaked or boiled in salty water to reduce its concentration.
The main trick of keto lasagna is that eggplants should not be used raw but slightly baked or fried beforehand. As a result, the layers of lasagna are juicy and soft, without excessive water.
Be sure to choose a good cheese because it sets the main tone of taste and aroma of lasagna. For example, choose mozzarella if you like that creamy, lightly salted flavor. Ricotta adds tenderness to keto lasagna and replaces the classic flour sauce. You can use anything for the filling: minced meat, chicken fillet, fried mushrooms, stewed vegetables, and bacon. And don't forget the fresh basil for a traditional Italian touch.
You can bake such lasagna in a special ceramic form and use the usual form for baking cakes. My lasagna without noodles comes out in three layers and medium height in a medium form. If you want to bake this dish in a large form, double the ingredients in the recipe.
Keto Lasagna Recipe
Ingredients
Eggplant 600 gr

Olive oil 60 ml

Canned tomatoes 900 gr

Garlic 10 gr

Ricotta 500 gr

Chicken eggs 2 pcs

Ghee 20 gr

Mozzarella 360 gr

Ground beef 600 gr

Fresh basil 100 gr

Salt and pepper to taste
Preparation
Prepare Low-carb Lasagna Noodles
Wash the eggplants, dry them, and cut them into slices 5mm thick. You can cut them into long strips or thin circles, but try to make them the same, so they bake thoroughly. Brush eggplants with olive oil. Salt and pepper them to taste.
Put the baking paper on a baking sheet, preheat the oven to 360 degrees and bake the eggplant for 7 minutes. It is important to lay the eggplants in one layer for them to bake evenly. Next, remove the baking sheet, flip the eggplants with a fork and bake them for another 5-7 minutes. As a result, you should get slightly dried but not brown slices. To get a 3-4 layer keto lasagne, you need to bake a few eggplant servings.
By the way, you can cook keto zucchini lasagna by simply picking zucchini instead of eggplants. The preparation will be the same as with eggplants.
Cook Sauces
You can use my keto Bolognese sauce recipe or make the sauce easier and faster. Pour the canned tomatoes into a heavy-bottomed saucepan. Peel the garlic, chop and add to the tomatoes. Salt, pepper the tomatoes with garlic to your taste, and mix. Return the pan to heat and simmer the sauce for about 10 minutes until it slightly reduces its volume.
13 Easy and Quick Keto Egg Breakfast Recipes
Place the ricotta cheese in a small bowl, add the eggs and mix well. Wash the basil, pat dry, finely chop half of the basil and add to the ricotta, mixing well.
Cook Ground Beef
Heat a heavy-bottomed pan and melt a small piece of ghee. Fry the ground beef, constantly stirring to get a smooth texture. Salt and pepper it and simmer until tender. Add your tomato sauce and simmer for another 5 minutes.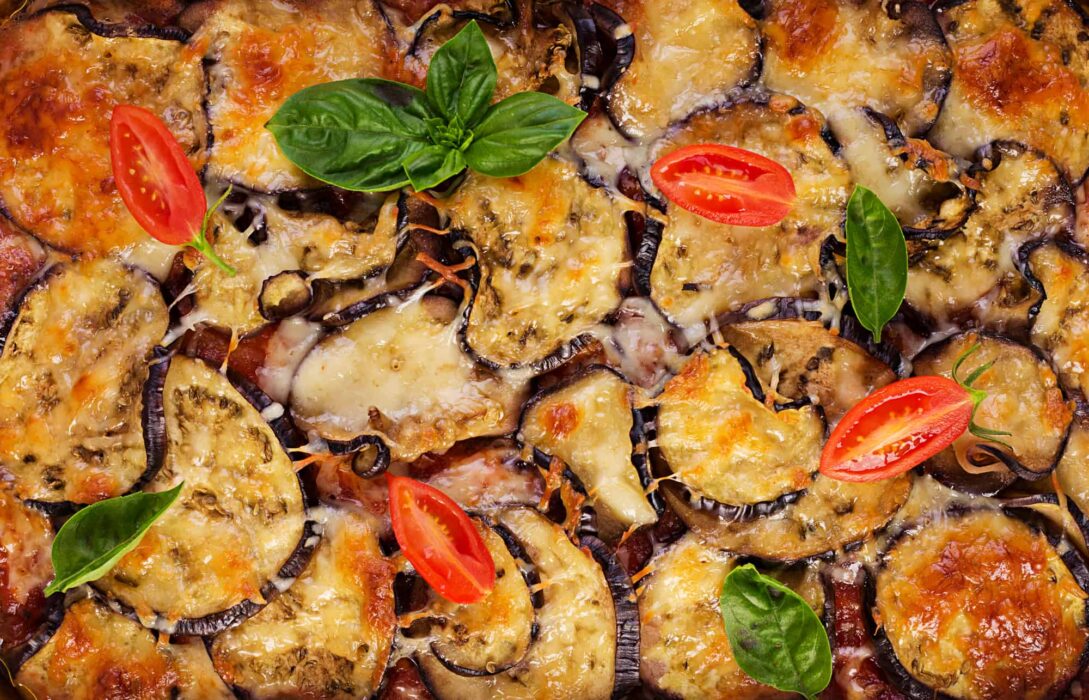 Cook Keto Lasagna
Take your baking pan and grease it with oil. It can be of any shape and material – rectangular, round, square, glass, ceramic, or metal – it doesn't matter. Lay the bottom layer with eggplant slices, then put a layer of minced meat in tomato sauce, put a layer of ricotta with egg on top and sprinkle with grated mozzarella.
Then again, lay out a layer of eggplant, then minced meat, then ricotta and mozzarella. Repeat layers until you run out of your ingredients. Depending on the size of the form, it can be 2 layers or 5 layers. You need to finish with a layer of eggplant, drizzle it with ricotta sauce and top with plenty of mozzarellas.
Place the mold in a preheated 360-degree oven and bake for 15-20 minutes until golden brown. Remove the lasagna, sprinkle with chopped basil and enjoy!
Conclusion
As you can see, this keto lasagna recipe is very simple and will take you no more time than making classic lasagna with pasta. The result is a hearty, tasty meal with just the right amount of carbs that won't hurt your ketosis. I recommend complementing this lasagna with green vegetables to maintain the correct keto proportion.
Carnivore Diet Meal Plan for Beginners
Bon Appetit!