Any healthy diet you are ticking to is not complete without a recipe for a tasty yet low-calorie omelette for weight loss. This dish is the basis for a useful breakfast all over the world. If you haven't found a low-calorie substitute for hearty pancakes, take a look at the following recipe that will enrich your first meal of the day and even serve as the perfect end of it. 
Here, we've gathered some interesting tips on making your omelette perfect and healthy without a ton of harmful ingredients. 
How to Make the Perfect Omelette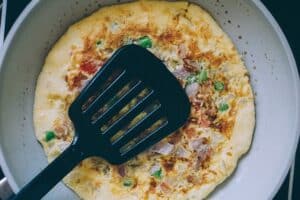 There are as many omelette styles as there are countries on Earth. Each one hides its secrets of a perfect roll-up or a whip. And even despite the simplicity of the recipe, it's won the title of the most delicious breakfast food on all continents. And if you are here for the perfect healthy omelette recipe for weight loss, you will not be disappointed. 
Keto Eggplant Lasagna: Tasty, Low-Carb and Quick Recipe
The French master-chefs of old hid a secret that makes the omelette fluffy and tasty like a cloud melting in your mouth. The secret ingredient is "a teaspoon of cold water per egg." It seems like an insignificant ingredient, but it makes all the difference. You see, upon heating, water becomes steam that elevates the whole egg mixture, thus making it fluffier. In some countries, the amount of added water is far larger than that, turning an omelette into a puffy cake of sorts. I don't recommend overindulging, though. 
What to Add to a Healthy Omelette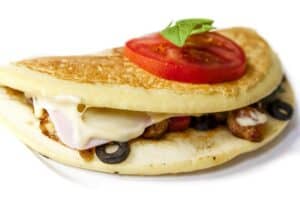 The omelette base, well eggs (duh), is healthy on its own. Eggs are full of protein that is essential for keeping your body healthy. A 2015 study proved that eating two-three eggs a day bears significant benefits for cardiovascular health and weight loss. 
Now, it's the matter of tasty addition to an omelette that would keep it healthy or even bring more nutritional value to the dish. Here are some of the most interesting additional ingredients to use. 
Beans 
Beans make the perfect companion for a healthy omelette. They are also full of protein – 15g per serving. The high number of carbs – 45g – does not prevent weight loss because the beans, especially the black ones, and full of fiber. Thus, they fill you up for the whole day without stocking fat in unnecessary places. This additional intake of fiber was proved to reduce cholesterol levels and belly fat percentage. The importance of the latter can be seen in our body composition article. 
Tomatoes 
If you haven't tried eggs fried or baked with tomatoes, you don't know a genuinely heavenly dish melting in your mouth. While tomatoes consist of 95% water, the rest 5% will enrich your daily diet plan. This nutrient-dense superfood supports weight loss and the overall health of your body. 
Carbs in Tomatoes: Are Tomatoes Keto?
However, tomatoes' power here is not only in their nutritional value but also in the mouthwatering combination of tastes. 
Turkey
To stay healthy, you are not required to stick to vegetables. A bit of nutritious and low-fat turkey meat will make the omelette hearty and substantial to provide energy for the whole day. One way is to add small turkey chops when the omelette is almost done. Another way to add ground turkey to the mix initially and cook it all in the oven. 
Jalapeno 
Spicy food enthusiasts will be delighted to add a few jalapeno peppers to the mix! This jolt of spiciness will help burn those fats and give you enough energy to last till your next meal. In terms of weight loss, hot spices are the perfect metabolism booster if added moderately. 
If not jalapeno, any other fiery pepper like cayenne or habanero will do for a fat burning omelette. 
Mushrooms
A fan of mushrooms? Then add them to your morning omelette! A naturally healthy dish with even more nutritious mushrooms creates a substantial meal and a blast to taste buds. No matter which ones you choose, all of them are low-calorie and rich in nutrition. 
Omelette Recipes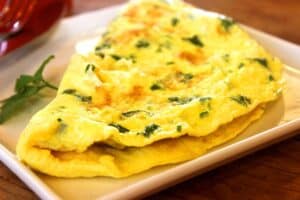 Here are a couple of interesting omelette recipes with the above-mentioned and a few other easy and fast ingredients to put together even on a busy morning. 
A Creamy Omelette with Mushrooms
Ingredients: 
100g mushrooms 

3 eggs 

3 tsp water 

2 tbsp sour cream

1 tomato

chives

cheddar 
Beat eggs with salt and pepper to your taste. 

Add sour cream and water and whip them a bit more. 

Slice mushrooms and tomato. 

Heat a pan and simmer tomato cubes for around 4 minutes.

Add mushrooms and cook on high heat for about 2 minutes.

Pour the egg mixture and lower the heat. 

When the omelette is almost done, add chives. 

To add extra oomph, a bit of cheddar on top will create melted heaven! 
A Fluffy Omelette with Turkey 
This is yet another simple omelette recipe that can become your favorite morning dish while you keep to a healthy diet! This one is a bit more calorie-heavy due to the added meat, but it'll give you more energy for the day! Pair them up with some keto-friendly whipped matcha dalgona!
Ingredients: 
150g of turkey (either ground or thin slices)

3 eggs 

50ml milk

3 tsp water 

1 tomato 

basil 

garlic 
Heat a pan and add a small bit of butter. Add a diced clove of garlic for 10-15 seconds. 

Add diced tomato and cook for around 3 minutes. 

Put all the meat in a pan and cook it till ready. 

While the meat frizzles, beat the eggs, water, and milk together. 

Pour the mixture into the pan and stir it while the eggs are cooking. 

When plated, add a couple of basil leaves.
As the side to your omelette, you can add a spoonful of beans, salsa, a few slices of avocado, or even simmered vegetables sprinkled with soy sauce or any other dressing you prefer. 
13 Easy and Quick Keto Egg Breakfast Recipes
Personal recommendation: switch on your imagination and experiment. The raw egg mixture remains unchanged, but the additional ingredient can be anything to your preference. More healthy options include ricotta, quinoa, chive, olives, broccoli, bell pepper, onions, spinach, feta, etc.