An essential part of an actor's job is their physical appearance. Various roles demand different looks. And just as you study a character and transform into it behaviorally, your appearance also plays a great role in the whole image. Unfortunately, not all celebrities are eager to share their dieting and training plans. Especially when it comes to weight loss. Luckily for all of us who want to build some muscle, Chris Hemsworth is completely open. 
Chris Hemsworth has the physique of a North God. Of course, that was required for his role of the mighty Thor. Thanks to the actor's openness and fitness app, we have the closest Thor workout to what the actor's been doing. Obviously, his toning up was partially working out, partially a proper diet. 
For some professional healthy eating tips, check our article on food cravings and how to satisfy them!
From what I've learned, his workout plan was full of bench presses, deadlifts, pull-ups, and so on. But how much and how often? Learn the details in this article.
Fitness App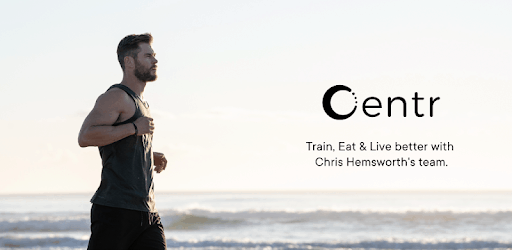 After several critically-acclaimed portrayals of a Norse deity with a God-like physique, Chris Hemsworth has built up a perfect body. Well, let's just skip the Endgame as it all was just a costume. I seriously doubt he'd let it all loose after years of dedication and intense training. Since then, the actor has turned his fitness journey into a business and invested in a Centr fitness app. 
Zac Efron Workout Routine – How to Build a Baywatch Body
The app gathers effective dieting tips and workout schedules following Hemsworth's regimen. And although the actor has a background in fitness and active sports, it doesn't mean that you have to be an athlete or bodybuilder to follow the schedule. It is recommended to know your limits, though. Obviously, you won't exercise with the same intensity as the actor from the start. Depending on your starting point, you may need years to build a body of a god as well. 
Now, let's take a look at what I've gathered from the app and the bits and pieces of the actor's interviews. 
Chris Hemsworth's Workout Plan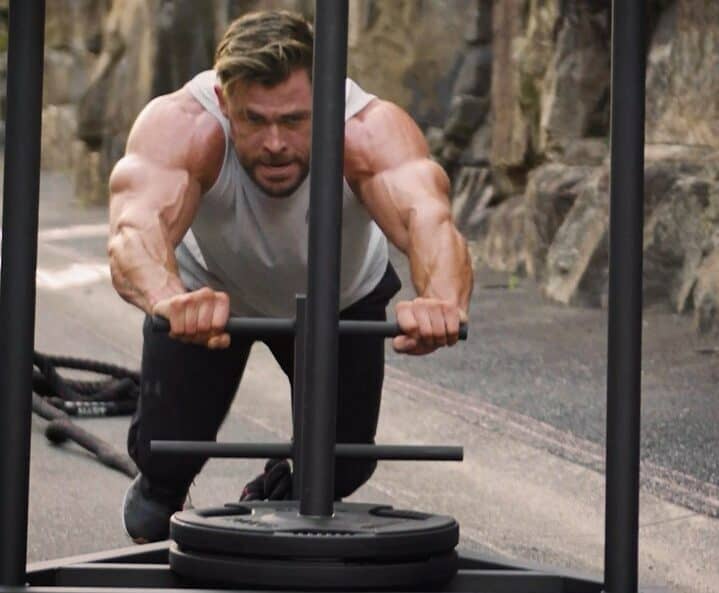 Chris Hemsworth is not the only person responsible for the bulky image of Marvel's Thor. The fruitful training was meticulously planned by the actor's personal trainer, Luke Zocch. 
You'll see that there is nothing superhuman about the regime: just some basic moves, dedication, consistency, and increasing weights. 
During the preparation time, the actor had to maintain a calorie surplus in order to gain muscle mass. He consumed a ton of calories and had to burn lots and lots of energy as well. 
Reportedly, the trainer didn't allow the actor more than an hour of training at a time. And that means that hour was hell. 
An important piece of advice from the trainer goes like this:
foremost, learn to master the technique with bodyweight exercise; and only when you master your body can you add weights.
This is the ultimate tip to avoid injuries that I've heard from countless trainers in gyms and online. 
Frank Grillo Workout to Get Ripped
If you follow the Centr App, you can see three basic levels of Chris Hemsworth's training. Here are some takeaway schedules.
Beginner Version
The program spans ten weeks and targets your entire body. It is meant to increase your stamina and health. Among the required equipment is:
barbell

dumbbells

bench

box

cable machine

chest press machine

resistance bands
As you see, the workouts are mainly gym versions. The schedule comes with three * 3-week phases and the last deload week. In general, weight training takes place every other day. In-between, you can do the optional HIIT workouts. 
Upper Body
Considering that Thor is mainly known for broad shoulders, let's take a look at some exercises offered for the upper body split days:
Push-ups as warm-up 
Push-ups on knees (12 reps * 3 sets)
Incline dumbbell bench press (8 reps * 3 sets)
Dumbbell incline fly (10 reps * 3 sets)
Dumbbell shoulder press (8 reps * 3 sets)
Bench dips (12 reps * 3 sets)
This is a first-week plan that is approximately repeated throughout the whole course. In time, you'll have to increase your weight. 
HIIT
Chris's HIIT sessions usually last around 30 minutes (for beginners) and consist of the following exercises (beginner schedule: 20-secs work, 40-sec rest)
bear crawl
plank to pyramid
swing kicks
lateral lunges
star jumps
windmill
burpees
squats 
This is the base that is offered for beginners. The advanced level also incorporates such exercises as:
single-leg deadlift + jump 
burpee + jump lunge
superman push-up
plyo push-up + squat
bear crawl spin
These are just some examples of HIIT exercises Hemsworth does. I know, the names seem strange if you are a beginner. But, you'll learn them along the way. As we progress in our fitness journey, I promise to research the advanced versions among professionals. 
Lower Body
The leg days also come in 5 rounds, 3 sets of each movement. The offered exercises include: 
Squats/Dumbbell box squats 
Weighted deadlifts 
Weighted forward lunges 
Barbell hip thrusts
Calf raises 
The ultimate core challenge from Luke Zocchi is posted on Chris' Instagram page: 
5 exercises, 10 reps each, successively, without rest periods! 
You may check the challenge here: 
 

View this post on Instagram

 
For the detailed workout plans and visual help for the whole 10-week course, please, check the Centr App! 
What Is Chris Hemsworth's Diet Plan?
According to Chris' personal trainer, Zocchi,
"He eats, like, six to eight meals a day."
In the preparation periods for Thor, Hemsworth increases his calorie intake to bulk up. Being the staggering 6'3″, the actor's calorie expenditure rate is incredibly high. Thus, he needs to eat thousands of calories per day to build those extra muscles. However, in the interview, the trainer admits that Chris finds it hard to eat a huge meal in one sitting. Thus, they"ve decided to divide them into eight dishes.
"We try to eat every two hours and getting 450 calories in [each time]."
In between the usual list of protein-packed foods like lean meat, fish, and poultry, the actor takes protein shakes as simple snacks. This is a quick fix for anyone trying to get muscle. I suppose you also know how hard it is to consume all that "prescribed" amount of protein in a day from regular foods.
Gal Gadot Workout Routine for Wonder Woman
According to the trainer, he brings Chris food so often in the preparation time before filming Thor movies, that he feels "like his grandmother."
The actor himself also often mentions simply overfeeding with protein-rich foods while preparing for filming. Among the foods he regularly mentions are:
eggs
fish
steak
tuna
vegetables
cottage cheese
avocado
brown rice
Lately, the actor tries to include more legumes and grains to his diet striving to be more mindful of the environment and animal protection. If you would like to follow the example, you can also include chickpeas, lentils, black beans, quinoa, buckwheat, etc.