Alexis Ren is a highly successful model and social media influencer. She has become a role model for many young girls. As a model, Alexis keeps her body in a perfect form, the one that is clearly physically active and healthier than bony and extremely slim. Logically, the fans wonder what exactly needs to be done to obtain such forms. 
Back in 2018, Alexis Ren uploaded a 10-minute ab workout routine to her YouTube channel. Today, it is one of the most popular ab workouts on the platform, with over 41 million views. The video sparked a craze of viewers setting 30-day challenges of daily workouts with Alexis Ren. The results seem to be impressive overall. 
If you are looking for a quick workout that would give you steel abs, starting with Alexis Ren is a good option. Overall, among thousands and thousands of "Alexis Ren Abs Challenge" videos, most reviews show positive results in transforming their abs. 
What Is Alexis Ren Workout Routine? 
In 2021, you can find four workout videos overall on Alexis Ren's YouTube channel. Plus, you can join the model's website with detailed monthly challenges for a fixed monthly payment. 
Two of them are dedicated to core and abs, one focused on toning up your butt, and the newest addition is an extensive 45-minute HIIT workout. 
CrossFit VS HIIT: Which Is Better for You?
In the description box to her featured ab video, the model mentioned following this 10-minute routine every day. Since then, she's subsequently added a workout targeting her obliques as well. 
The initial ab video introduces some basic moves that will have you learn the foundation of core training and implement these exercises for regular training. 
The routine includes 20 exercises 30 seconds each. 
Sit-ups

Knee touch crunches

Heel touches

Bicycle crunches

Russian twists

reach through crunches

Legs to ceiling reaching crunches

Toe taps leg lifts

Flutter kicks 

Scissor kicks

Leg lifts

Leg up alternating toe crunch

Crunch kicks

Mountain climbers

Plank

right side plank 

Left side plank 

Plank

plank twists

Spider climbers
The whole workout is a straight 10-minute load of non-stop exercises. I've tried them a couple of times as well – they will burn and make your body hate you. If this sequence is too much for you at this point, set up a timer and introduce 10-15 seconds of rest between the exercises. 
Upper Abs Exercises: Fact or Myth?
The latest entry fans can get free access to is the full-body HIIT. This is a part of her "fat burn, muscle-building" 30-day challenge posted on Ren's mentorship community website. The HIIT sequence targets your overall endurance, burns calories as effective as cardio, and, gradually, improves muscle strength. If you are interested in high-intensity interval training and its benefits, read this guide on HIIT training for beginners. 
Here is the actual video that you can train with. It comes with soft music and detailed exercise guidance
Is the Alexis Ren Ab Workout Effective?
If you are a beginner and are looking to start building strength, Alexis Ren Ab Workout is a good entry point. The numerous video reviews posted by YouTube and Instagram users show significant improvement in many cases. 
Personally, I've seen some improvement in just a week of training. Accordingly, a month-long challenge would be effective. 
If done regularly, you will see the results. Note that the key to pronounced abs lies in the combination of a regular ab workout and a healthy diet. For no matter how many packs you have, they may be hidden under the result of an unbalanced diet and junk food.
How many times a day does Alexis Ren do her ab workout?
Alexis mentions doing her 10-minute workout every day in the morning. The video is packed with 20 basic core exercises as it is. There is no need to repeat the training several times a day. 
The general consensus is to practice the workout once a day regularly. 
What Is the Alexis Ren Challenge?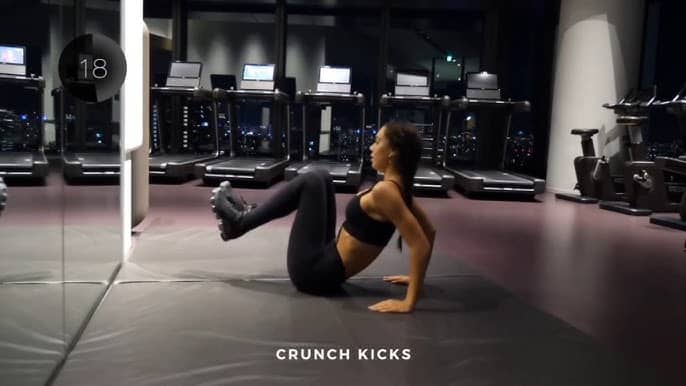 Alexis Ren challenges come in two options. 
The first one is the free challenge of repeating her 10-minute ab workout every day for 30 days. This is the challenge introduced mainly by the community solely based on the free video uploaded. 
However, Alexis Ren also has her own website with subscription-based membership plans. As a member, you get access to diverse fitness challenges, diet guidance, and inspirational messages from Alexis. The cost of the community subscription is $33 a month. 
Conclusion
Alexis Ren has a fantastic physique that many strive to achieve themselves. The generally positive reviews of her paid challenges, as well as the way she keeps herself in good form, serve as a bright example of her workout's effectiveness. 
Quick 5-Minute Ab Workout At Home
If you are not ready to pay $33 for community access, get to know Alexis's workout style with the few free videos on her YouTube channel. 
I've followed the famed ab workout video for a month and can clearly see noticeable improvements in the way my abs look and the strength they develop. I highly recommend sticking with the regime for a month to see clear results, though.