Are you thinking about purchasing a stationary bike to help you get into shape, lose weight, or simply feel better? If the answer is yes, you might want to consider a bike with moving arms to optimize your workout, strengthening your muscles from head to toe.
In this article, we have a phenomenal list of exceptional stationary bikes that comes with amazing features, and ergonomic design and are quality made with high ratings and reviews from users who have already given these products a try.
If you are ready to pick up a stationary bike of your own, here are five options we think you could truly benefit from using.
Schwinn Fitness Airdyne Bike Series
ASSAULTFITNESS Assault AirBike Classic
Velocity Exercise Dual Motion Recumbent Bike
Sunny Health ; Fitness Recumbent Bike SF-RB4631
Marcy Exercise Upright Fan Bike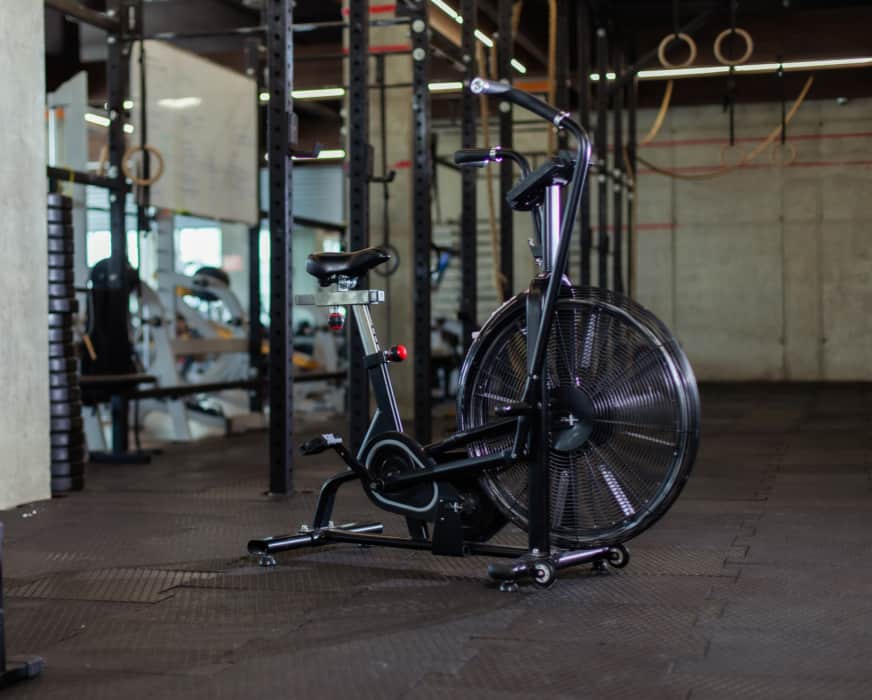 Our Picks
1. Schwinn Fitness Airdyne Bike Series
This Schwinn fitness Airdyne bike utilizes a single-stage belt drive that allows you to enjoy a quiet workout with an optimized fan for efficient noise reduction and high resistance.
This low maintenance machine offers users a comfortable, adjustable seat, providing a smooth ride with a perimeter-weighted fan for a quick and easy start-up.
Push yourself to the limit with unlimited challenging levels thanks to the progressive wind resistance technology and multi-position handlebars that ensure everyone can get in on the action.
Pros
Cons

Offers a quiet workout
adjustable seats and handlebars
Easy to maintain and store

Peddles can shift
Seat doesn't stay level may need to be replaced
2. ASSAULTFITNESS Assault AirBike Classic
With the ASSULTFITNESS Assult AirBike, you can get a hardcore cross fitness workout from the comfort of your own home. This bike offers unlimited resistance to the upper and lower body using air resistance created by a twenty-five-inch steel fan.
Customize this bike for a perfect, personal fit with the six-way adjustable seating with the ability to five yourself forward, backward, up, and down.
Get a fantastic upper body workout while you are cycling on this modern and convenient machine. With this stationary bike, your workouts will never be the same.
Pros
Cons

The resistance automatically increases as you work harder
Comes in a modern design
Six-way adjustable seating

No water bottle attachment
Seat adjustments are far between
3. Velocity Exercise Dual Motion Recumbent Bike
This Velocity exercise bike is a dual motion machine that allows you the opportunity to get a full-body workout at one time. It has a 5kg flywheel and a one-way bearing belt that provides a smooth spin and plenty of resistance as you peddle.
There are eight levels of tension control on this bike, providing a sweat-inducing workout for anyone from beginners to experts in the stationary biking world.
This bike is set up a little differently than the typical stationary bike with a full seat, which is excellent for comfortable sitting or those who require a little extra stability.
Pros
Cons

It is accommodating to anyone who uses it
Lightweight and easy to move
Handlebars with heart monitoring sensors attached to the seating

The bike is not scratch resistant
Has a low weight capacity compared to other options
4. Sunny Health ; Fitness Recumbent Bike SF-RB4631 
The Sunny health and fitness recumbent bike have an ergonomic, comfortable seat with back support with adjustable height, giving users of all sizes and health levels a great machine to work out with.
This stationary bike has eight magnetic tension control levels that will help you mix up your routine and give you the most resistance when you need it.
Sunny offers customers an affordable and quality product that is easy to move, thanks to the built-in wheels, and even easier to use, proving a product for a variety of exercise enthusiasts.
Pros
Cons

Lightweight and easy to move
modern and attractive design
comfortable seating with back support

Can be hard to get on and off for those with limited mobility
Seat might not be comfortable
5. Marcy Exercise Upright Fan Bike
This Marcy exercises upright fan bike gives the user complete control over their workout by providing a machine with flexible and adjustable seating and a unique resistance system that uses a fan to increase resistance during your ride rather than the common flywheel. The faster you pedal, the more resistance you face.
The premium steel framework gives the bike a scratch-resistant protective coating, making it durable and long-lasting for continuous rides for many years.
Get a dual-action workout with just one machine while moving your arms and legs simultaneously as you ride from the comfort of your living room.
Pros
Cons

It is durable and scratch-resistant
Lightweight and easy to move
Provides a dual-action workout with multiple levels of resistance

Not the best option for experienced athletes
The monitor does not shut off automatically
Buying Guide
When you are ready to get an amazing workout from home, a stationary bike is a fantastic option because it is versatile and can work for anybody's type, medical condition, and experience level. These bikes are made to provide consistent resistance but at a level, you can handle. 
Bike Features
Before purchasing a bike, decide which features are most important to you. Are you looking for something with a comfortable seat and extra back support, or do you want something a little more compact with a digital display?
Every stationary bike comes with a variety of different options and features, giving you the ability to choose a machine that is ideal for your situation and give you a personalized workout that will provide you with the most benefits possible. 
Features to look for when purchasing a stationary bike include:
Monitor and tracking

Adjustable seats and handlebars

ergonomic design

Durable materials

Lightweight

Easy to transport

Tye of resistance
Weight Capacity
When choosing a stationary bike, another feature to look for is how much weight it can accommodate. While these machines are ideal for weight loss, not all options can support all body types. 
Best Treadmill Shock Absorption
Always check the item description before you make a final purchase to ensure the machine is going to be comfortable and support your weight. 
Cost
The cost of the stationary bike you choose is going to differ greatly depending on the features, durability, and quality of the machine. The more features you are looking for, the higher the price tag will be.
The construction materials used to build the bike will also play a large role in how much the item costs. For more durability and ease of transportation, you are going to pay a little more than if you bought a product that might dent or scratch easily.
Now, this doesn't mean you have to pay a fortune for a quality stationary bike; it just means you might have to forego the bells and whistles if your budget is on the lighter side. 
Noise
When you are placing a stationary bike in your house, the last thing you want is a noisy machine. When picking up a stationary bike, check the box and see if the design took sound into consideration.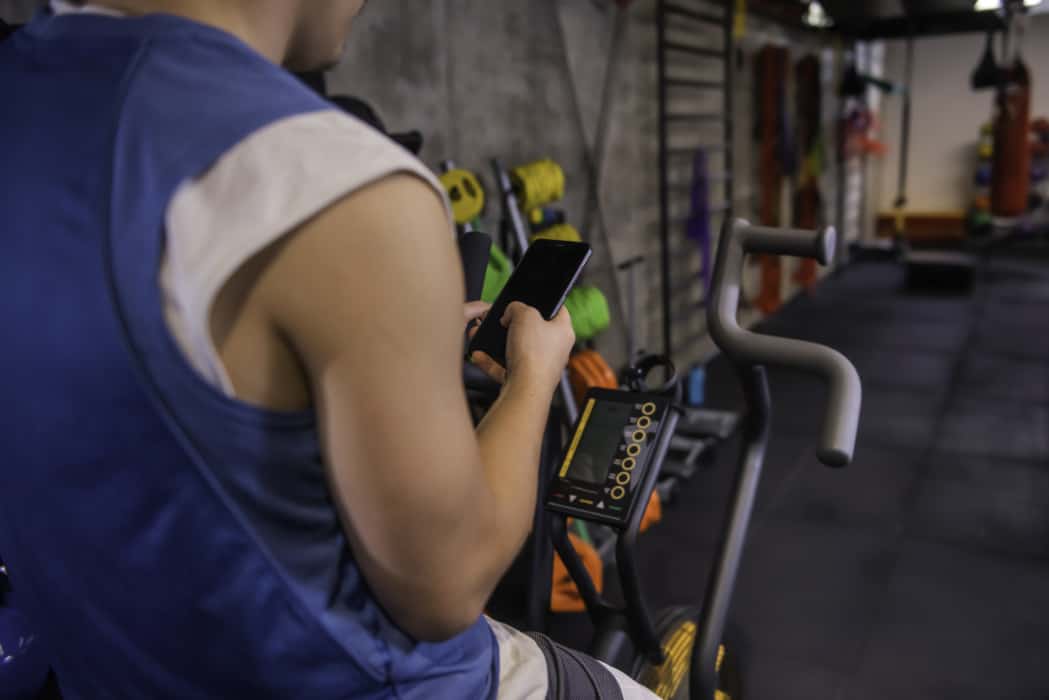 FAQs
What are the Benefits of a Stationary Bike with Moving Arms?
There are tons of benefits to using a stationary bike, some of which includes the ability to work out the arms and legs simultaneously, muscle building in your shoulders, easier on the knees than other cardio workouts, exercises your entire body, and so much more.
What Features Are Most Important on a Stationary Bike?
The features you should consider when picking up a stationary bike should fit to the benefits you are hoping to get from it and your personal health.
A heart rate monitor is ideal for anyone who has health conditions, the elderly, or anyone out of shape. If you are looking to lose weight, you want a monitor that will tell you calories burned, and if you are looking to gain stamina, a distance tracker would be beneficial.
What are the Best Brands of Stationary Bikes?
There are a lot of stationary bike options on the market today, and many of them are good quality machines. However, the list provided above gives you a great list of options that have all of the important features, details, and designs that will aid you in your fitness goals. 
The Verdict
If you are looking to get the most out of your workout, purchasing one of the stationary bikes listed in the article above will not only make you sweat but will keep you comfortable and challenged the entire time.